RIO DE JANEIRO, BRAZIL – The first facility of the Deodoro Sports Complex, one of the primary locations for the 2016 Olympic Games, was opened on Sunday (August 31st) by the Mayor of Rio Eduardo Paes.
The BMX cycling competition arena will host eleven Olympic and four Paralympic games and later become a Radical Park, a legacy for the residents of the area.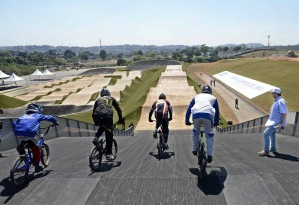 The arena, which has about 4,000 meters of area and two tracks over 300 meters long for female and male cycling games, will host the test event of the International BMX Challenge on October 3rd, with the participation of 96 athletes from thirty countries.
After inaugurating the space, Paes ensured that all works in the complex are going to be completed on time.
"The City Government is committed to build a legacy from the Olympics. After the Games, this track that we are presenting today will give joy to cyclists, professionals and amateurs in the region," said Paes. "There is high-level equipment and it is being delivered even before the deadline. Incidentally, all Olympic works are meeting their deadlines and costs. What is happening today is an early delivery."
The President of the Olympic Organizing Committee, Carlos Arthur Nuzman, also boasted about the quality of the tracks in Deodoro Sports Complex, claiming that they are among the best in the world.
"I'm no expert in cycling, but what I've heard is that this is one of the best tracks in the world, higher [quality] than London," said Nuzman. "Deodoro, which bothered us before, now excites us, showing it was a great success bringing the extreme sports to this region."
The project was designed by the architectural firm Vigliecca & Associates with the advice of Elite Trax company, the same that built the BMX track for the Olympic Games in Beijing (2008) and the Pan American Games in 2015 in Toronto. After the Games, the arena will be open to high-performance athletes, amateur cyclists, and even beginners.
Shalina Chatlani
– See more at:  http://bmx2016.com.co