Sarah Walker has ended her track cycling experiment and is getting back on the BMX, with Cycling New Zealand set for a change of heart over its funding allocation.
Walker had previously shifted focus to the velodrome as she set her sights on competing at the 2018 Commonwealth Games in the Women's team sprint event. Her BMX future was left in serious doubt when Cycling New Zealand chose to axe its BMX High Performance programme in February, effectively leaving the 2012 Olympic Silver medallist on her own.
However her achievement of reaching the Women's Elite Final at the BMX World Championships in July could force a re-think.
Walker told Newshub "It's looking promising and looking like there'll be maybe even a couple of girls with a bit of support so we might have a couple of us training together and maybe even three or four of us."
"It would have been really cool to give the Commonwealth Games team a crack with the track cycling but BMX will always be where my heart is, so if the support's there I want to be able to give that back to BMX."
---
Sponsored Advert



---
Cycling New Zealand CEO Andrew Matheson said Walker's performance at the 2017 World Champs had earned her a Performance Enhancement Grant, but confirmation of any additional support could not be considered until after the official review from High Performance Sport NZ in mid-December.
Walker said she expects to learn more about the funding model this week. She said Cycling New Zealand's interim High Performance director Michael Flynn – formerly HP director with Bike NZ – is doing what he can to support Walker and the BMX programme.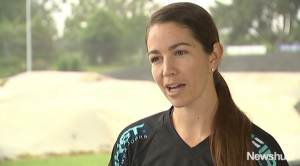 "He knows me and what i'm capable of and he's doing" she said.
"It's exciting for BMX because we were in limbo for a while and we've got someone who's sticking up for us at the moment so fingers crossed this week goes as planned."
Walker said she considered retiring from the sport, describing the prospect of working by herself for three years straight as a "deal breaker".
"I knew the last year after Rio through to World Champs wasn't sustainable. I do BMX because i love it, and it would be hard to maintain that passion and that love for it with that scenario continuing."
"What i really wanted was someone to train with and i think that's looking likely and that makes me really excited."
Walker now hopes to be at the 2020 Olympic Games but admits that even with a funding boost, there are a number of factors which could prevent her from competing in Tokyo.
"Obviously injury's one of them, but also there's a couple of girls coming through that are going really well and they've got huge potential and a huge future in front of them. They could end up faster than me in three years."
– Newshub.