The World's edition of the BMXNZ Newletter is out now with heaps of news from around the world.
Download the BMXNZ Newsletter Worlds Edition here:
BMXNZ Newsletter Worlds Edition Newsletter Final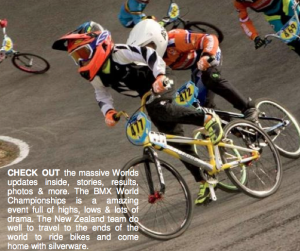 ---
The BMXNZ NEWSLETTER comes out three times a year, with news & updates from around the country.
BUT they need your input, as the info needs to be from you, our sport. This detail could be looked at & possibly reused elsewhere in the country. The sport needs to be closer and the only way to do that is to communicate and share the wins & losses, so we can learn off each other to make the sport better.
So get your news into Caroline Fox at any time. She needs more!  Too much news is a problem we would like to have, don't be shy. SHOUT IT OUT!
Next Issue
December 2015
2016 Issues
May 2016
Aug 2016
Dec 2016
Send your stories in as soon as you can to caroline@bmxnz.co.nz.