Held over two days on 21/22 May 2016, the Hawera BMX Club hosted the 21st Annual Indoor BMX Championships with over 250 entries from all over the country.
The major sponsors for the event were the South Taranaki Club, along with NZCT, Pelorus Trust and many local businesses who support the BMX Club for this event annually.
The Indoor event is known as a fun weekend to end the BMX racing season with many novelty races including striders, pit bikes and the legenary OSCARS (Old School racing)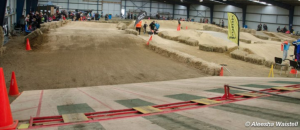 This year was no different with about 10 striders (remember these are the BMXers of tomorrow) 20 Pit bikes racers, and over 24 OSCARS!!!! OSCARS always prove to be a great event year in and year out – but this year we had 4 motos of OSCARS who entertained the spectators all weekend.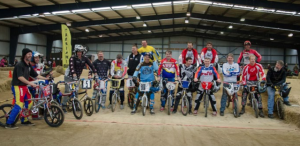 Every BMX rider should at least try the Hawera Indoor at least once – its a great weekend of racing – nothing too serious just loads of FUN and LAUGHTER (and you can even stay dry !!)
Don't expect anything technical on the Indoor track as our dedicated committee build this track in one day with nishing touches added throughout the week in the lead up to the event.But certainly a great event to bring your family along to finish off the busy BMX race calendar.
– Cushla Fevre