The last 3 months have been jammed with racing, training, traveling and making steps towards peaking for the World championships in Colombia.
After having a few big wrecks over the summer months of training in New Zealand, I finally managed to stay upright and get a decent block of training in before I flew to Chula Vista, San Diego at the end of February to prepare for the World Cup season. My time spent there was mixed between ridding both the Beijing and Rio Olympic Replica tracks.
For anyone who hasn't seen or ridden the Rio track, it is steep, demanding and intense, making for the perfect base of training leading into Argentina World Cup. After 2 weeks I then headed off to Argentina where I met up with the New Zealand team. Qualification day came and went posting a second with 2 first places on the board. On finals day, I struggled to turn it up and bowed out in 1/8ths seeing my weekends racing end there. We then flew to Colombia to get a few days on the World Championships track and feel out the city. First glance at the track, things were steep, tall and tight. I knew this track was going to be testing to not only the men but also the woman with their sections also being of a high skill factor. The track rode really well with the first straight being one of the fastest I have ever ridden and with the track length mixed with the altitude, was going to make racing at World Championships tough and demanding on the lungs and body, especially in the heat and humidity.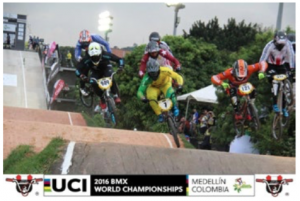 From there we set off to Manchester to get ready for the second World Cup. Landing into Manchester going from 30+ degrees to 2degrees, mixed with 6 hours sleep in 2 days of traveling and in my opinion thee toughest track in the world technically, it made for an interesting but solid first track session. Race week came and went seeing qualification motos roll around. First moto seen myself wreck fighting for the lead into the first turn trying to use my size a little to much, finishing last and qualification points being as low as 9 points these days, made it impossible for me to transfer to finals day kicking off with high points after moto 1.
I then headed off to Switzerland with the UCI Cycling Team to train once again the same as I did last season. This place is thee most picturesque facility in the world and with fresh snow capping the mountains, it didn't disappoint. 3 weeks of training came to an end and I was ready for Papendal hitting some P.B.s out on the track before I left.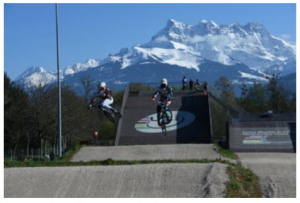 Papendal track is looooong and having changed since last year, actually somehow felt even longer than before. Practice came and went and the changes proved to be a success with a large majority adapting to the changes with ease. I have never been to Papendal where there has been a calm still day for this event and this year didn't disappoint with a killer side wind. Qualifications for me went smoothly with a 3rd, 1st and a 2nd going into finals day with confidence. After almost going down in moto 2 from the wind and clipping out, I had the best gate of my life I think in moto 3 but finishing 1 point off qualifying ending my weekend in 1/8ths once again.
We then took the burn of trip to Oldsmar, Florida to get ready for World Championships in 2 weeks time. With having a solid little block in the stinking hot heat, meant I could put some big work into my weaknesses from the previous 2 World Cup races and also put work into race preparation for the humidly hot Colombia track. We also managed a session on the newly built Sarasota facility, which will play host to a World Cup at the end of this years international season. Probably one of my favourite tracks to ride world wide with multiple options down not only the third and fourth straights but also the second straight which is a first in my opinion.
From there we went into Colombia a day before practise kicked off and with a small flight and already being in the time zone in Florida, it made for an easy transition. As we predicted and the challenge track found out, rain was going to be an issue for the weekends racing. With prediction of rain 27 days in the months of May for Medellin, we were out of luck come race and time trial days with the biggest race delays I think I will ever see in the history of racing BMX. Race day for both men and woman seen some big crashes with the track being technically very hard and steep. Time trials seen myself miss out on the top 16 with a gap of .010 splitting us. Somehow I managed to finish 19th as my lap wasn't the cleanest with a few bar humps and steezy sideways action moments haha.
Motos on race day seen myself top qualifier in my heat moving into 1/8ths. From there a solid start meant a 2nd place finish ridding smart and being patient. From there it was onto the quarters where I once again finished 2nd moving into semis with a fast lap time. Semis I drew lane 4 and with a solid start felt really strong down the hill but coming unstuck tagging the first jump pushing me to the back of the pack by a mile and I struggled to pull back into qualifying position finishing in 6th, putting me 12th overall at the World Championships. At the beginning I felt a mixture of emotions asking myself constantly what success was. Post worlds I flew into Panama for a 2 day chill out and then back onto New Zealand. Since returning home I have headed back to my hometown for a few days where I have had some time to relax from a very busy past few months. Home has never felt so good!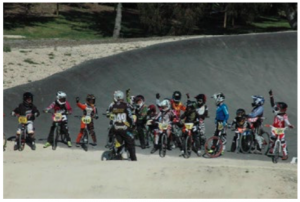 My Nine4Nine BMX Coaching has been going strong whilst overseas during this time with programming and periodisation. Now I am home for a time, I am about to pick the ball back up with the 2017 season upon us booking in coaching, clinics and full time training partnered with my University studies.
Where to from here?
Keep your eyes posted on my athlete and coaching social media pages of Facebook and Instagram. @MattCameron949 and @Nine4NineBMXCoaching Lastly I want to thank all my sponsors, supporters, financial backers, family, friends, and everyone following me for the continued support through to this point of the season. The messages, words and visits have been overwhelming and have meant I have kept a clear head moving forward through this season. Only time will tell with what's next. All for now, over and out! #Nine4Nine
Matt Cameron / Professional BMX Athlete / (+64) 027 699 9484 facebook.com/mattcameron949 / mattcameron949.com