East City BMX Club had the mammoth task of creating a brand new BMX track in just over a month – a hard task in itself but with Christmas holidays falling slap-bang in the middle of it, some said it would be impossible! Well we managed to pull it off.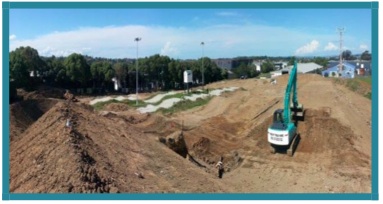 With Kurt Bagby taking a month off work and the steady hand and amazing talent of Carl Sorenson
On the digger/bobcat the arduous task began. With many long and hard worked days at the track, including both Christmas and Boxing days and a few working bees, our club pulled together to get the track up and running for the 2014 Auckland Championships. (Credit Tess Bates)
East City BMX Club now has a track that not only allows you to ride on a world style start ramp, but also allows for skill progression for all age groups.
As a club we would like to say a HUGE thank you for all the help we received from everyone, especially the help we received from other BMX clubs in the Auckland area. We feel that this project has helped to bring the Auckland clubs closer together and for that we thank you all.