The track at Bexley Park was hit hard by the quakes, and even now has no on-site power, water or toilets. Despite facing these challenges, the organisers provided a well set out track with ample facilities for the 255 riders entered and their families.
The weather forecast was for rain, but instead turned fine and providing a hard and fast riding surface. This was closely groomed by track staff, led by long time club member Mark Wilson. There was a great showing of world ranked riders, following on from the 2013 UCI BMX World Championships in Auckland, and there were many close tussles for placings.
The smallish Superclass field, consisting entirely of South Island riders, provided some spectacular racing. Local rider Jono Varty took double honours for Superclass and Elite men. The action-packed Elite Men's Final saw North Avon (NAC) Rider Daniel Bowers Wilson take out second place ahead of Alexandra brothers, Leon and Nathan Adair who finished in third and fourth places respectively.
World Number 1 rider Cailen Calkin from the Hamilton Club blitzed the field of the 13 Boys Class taking home the #1 plate, following on from his Mighty 11 victory in 2013 against a strong Australian squad in Te Awamutu. There was exciting riding in the 15 Boys Class with Isaac Pulley from Rangiora taking the win ahead of hard riding local Connor Mahan, NAC, and Southland riders Callum Holloway and Zach Griffiths.]
Hawkes Bay rider Stevie-Lee Reuben recovered from a slipped pedal in the second round to take the win in the 13 Girls Class from Taylah Pragnell, ranked fifth in the North Island. Christchurch City rider Corrina Lloyd came first in the 15-29 Women's 20″ and in the 13-29 Women's Cruiser. She also did a fantastic job of pledging the riders' oath during the opening ceremony.
The more mature riders were extremely competitive with close racing and tight finishes, requiring a camera finish confirming the placings on more than one occasion. The eldest rider at the meeting, Roy Leaning from North Avon club, gained the South Island ranking of #3 behind club mate Peter Page in first and Dunedin rider Gavin Finnerty in second for the 44+ Cruiser Men.
Results – 2014 BMX New Zealand South Island Titles
The South Island Titles is a unique meeting with a great atmosphere and it was pleasing to see a number of North Island riders coming down to enjoy the weekend, along with many new South Island riders experiencing their first major BMX event.(Credit Norm McCann)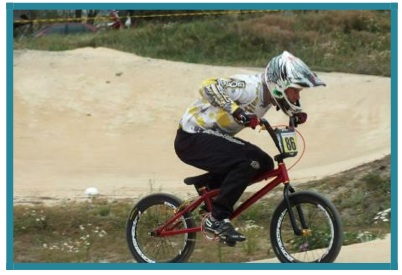 Daniel Bowers- Wilson at South's
Next year the South Island Titles will be held at Alexandra BMX club, lead by Club President Steve Adair, which promises to be another great event!