On the 16 of October 2013 I had eagerly awakened to the fact that I was shortly bound for an experience of a lifetime in the United States of America. My motivation to succeed overseas had led me to large amounts of training, a lot more than previous years for domestic racing and major New Zealand events, therefore making me feel comfortable and the fastest I had ever been on my bike.
After waving goodbye to my supportive family and sister, I boarded my 7:15 flight headed for San Francisco. After 13 hours airborne we caught a connecting flight to Orlando, Florida.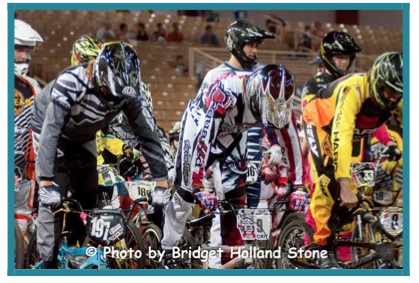 Jarrod Browning #197 at Disney Cup
Sprints and gym were the training methods before racing at the Disney Cup full nationals once in Orlando. After only three practice laps on the track I felt like I was ready for the very competitive class, which I knew would be nothing like I had ever raced against in New Zealand. My racing results were lower than I had expected of myself and I now knew the level of racing required of me to make a name for myself on the ABA circuit.
The day after racing I was right out of Orlando, Florida and heading towards San Diego, California to reside with national number one amateur champion Rusty Nesvig. This left me with four weeks build up to the next major event, which was the ABA Grand Nationals. Training with Nesvig and London Olympian Nic Long, as well a massive increase of intensity to my training, meant my riding level had risen higher from the beginning of the trip. Riding and preparing myself at the Olympic training centre (OTC), in which I rode the Chula Vista ABA track, gave me all chances possible of achieving my high expectations going into the ABA Grand Nationals.
---
Sponsored Advert



---
A 27 hour drive from San Diego, California on Sunday to Tulsa, Oklahoma was required to arrive at the Grand Nationals which we arrived at on Tuesday the following week. After inspecting the track and choosing lines, racing in America had started to sink in and I realised this was what I wanted as a career. After 30 minutes of practice, which gave me four laps to learn and dial in the track, I had a perfect mind-set and headspace which I took into the racing the following Saturday. The largest Grands ever had proved to make racing difficult.
(Disney Cup)
Feeling good on the gate of my first race I was hit by a crashing rider taking both of us down on the first straight away, leaving me with torn ligaments to my left knee. After that crash words couldn't describe the feeling of devastation after putting in a lot of hard work leading into this event. Racing with an injured knee was not part of my plan to get to the finals of the biggest race on earth. With an injured knee I still got to the top 16 of the 17-20 Open Men's Class; which proves that if my knee was 100% I would have been in the final main event.
Once finished up in Tulsa we drove back to San Diego where I stayed with Rusty for another three weeks until I flew back to New Zealand on the 23rd of December.
This trip was definitely an eye opener for me and showed me that BMX is what I want to do with my life. I'm hoping to make another trip to USA again in the very near future.
I want to thank the Nesvig family for welcoming me into their home with open arms, my parents for their support this whole time and also Smythe Contractors for allowing me to have time off to chase dreams. (Credit Jarrod Browning)
---
Sponsored Advert



---