A new BMX track already has the approval of the kids who use it, but now it's getting official recognition.
Hāwera Primary School's new purpose-built BMX track has been developed over the past few months and now has students lining up to ride its hills, twists and curves aplenty.
Some of the physical labour of building the track was done by people serving community work sentences.
"The track is one of the most fulfilling projects we've been involved in for the community in recent times," Corrections' acting district manager Annette Perrett said.
"Some of the people on the work party have a connection to the school and they can appreciate the benefits the track brings to pupils."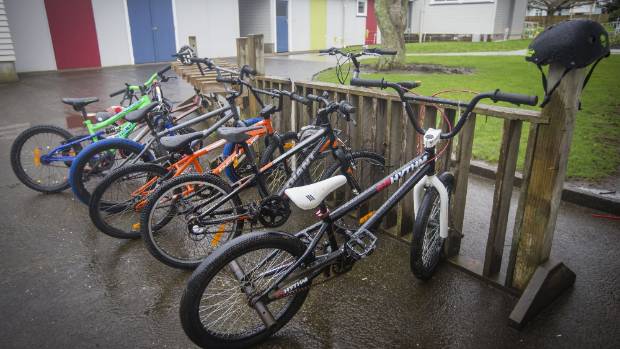 On Tuesday she presented the school with Corrections' annual community partnership award, which is given to one project from the region, which includes Taranaki, Manawatū and Taumarunui.
The award recognises the ongoing support and collaboration between the primary school and Corrections on projects that benefit the local community.
"A lot of people think community work is a punishment, but its not, it's reparative, it's about them giving back to the community. The punishment part is they have to give up their day, their time, but we want them to be doing something worthwhile, giving back to the community. This is the perfect example of that," Perrett said.
A community work party worked on the track over six months on Saturdays and school holidays, weather permitting.
Under the guidance of a community work supervisor, the workers have shifted dirt, installed old tyres at the edge of the track and laid pea gravel to help stabilise the track.
It is in an area that had needed redeveloping after some old pine trees were cleared, principal Neryda Sullivan said.
There is also a developing vegetable garden, fruit trees and native planting.
As well as the award, she presented the school with a hand-carved Māori fish hook representing prosperity, abundance, fertility and strength. The gift was created by men in Whanganui Prison.
School principal Neryda Sullivan said the project has opened up a whole new activity for the school's pupils, with classes having set days when they can ride the track at morning tea and lunchtime.
All that's needed now is a few more bikes for the school's bike shed, so students who don't have their own bike can use a donated one, she said.
"More bikes donated by the community would be gratefully received."
"At the moment we have nine, but we have a lot of kids who don't have their own bikes and they queue up waiting for a turn."
"We do have some helmets but if people had a spare helmet as well, that would be better."
In the current financial year, offenders managed by Hawera Community Corrections completed more than 16,300 hours of community work across South Taranaki.
– Stuff