Teacher and student, Sarah Walker and Jessie Smith, secured top-10 performances in today's elite racing at the UCI BMX World Championships in Baku, Azerbaijan.
After strong rides throughout the day, both were just pipped for a place in the grand finals by the closest of margins in the semifinals, both finishing ninth overall.
The weather was fine today which allowed organisers to run both qualifying and elimination racing, after winds forced a cancellation to racing yesterday.
Four of the five New Zealand elite females made it into the elimination races, with the fifth, Auckland's Zoe Fleming unluckily edged out on countback.
In the junior elite, Smith excelled in her first world championships in elite competition, after winning the Challenge class 16 years title last year. Sponsored by Walker, the Hamilton club rider won all three of her qualifying motos in emphatic fashion. She won her quarterfinal but found herself boxed in on the outside of the final turn in the semifinal. Smith pushed hard on the last straight to miss out on a spot in the final by just 0.1 second.
European-based Hamilton rider Baylee Luttrell was fourth after her three qualifying motos to make it through, trying to emulate her father who won a world title in the age group cruiser class earlier in the week. She was third in her quarterfinal and drew the same semifinal as Smith, finishing eighth.
Walker, after limited competition in her return to top level, found good form in the afternoon qualifying. She won her first moto and was second in the other two heats to finish equal top of her group. The Olympic silver medallist was third in her quarterfinal, and again made a strong start out of the gate in her semifinal. She showed top skills to close on the final straight, but like Smith was just pipped for a spot in the final.
"For myself, I as proud of my performances today given the limited racing and build-up. I was first to the first corner in every race to give myself a chance," said Walker. "This is really good foundation to build on now to come away from here ninth in the world.
"There were riders out her that were more than 10 years younger than me. That is pretty crazy that I am still competitive.
"I was also thrilled for Jessie. Honestly she was the fastest of the junior elites here today in her first time at this level. In the semifinal they made sure she was boxed in which is racing really but she has a huge future.
"Rebecca has finished 11th and both Baylee and Zoe were excellent. It was awesome for women's BMX in New Zealand."
Te Awamutu's Rebecca Petch, the national champion, qualified with two seconds and a third placing in her motos and was fourth in her quarterfinal, finishing sixth just behind Walker in her semifinal to finish 11th overall.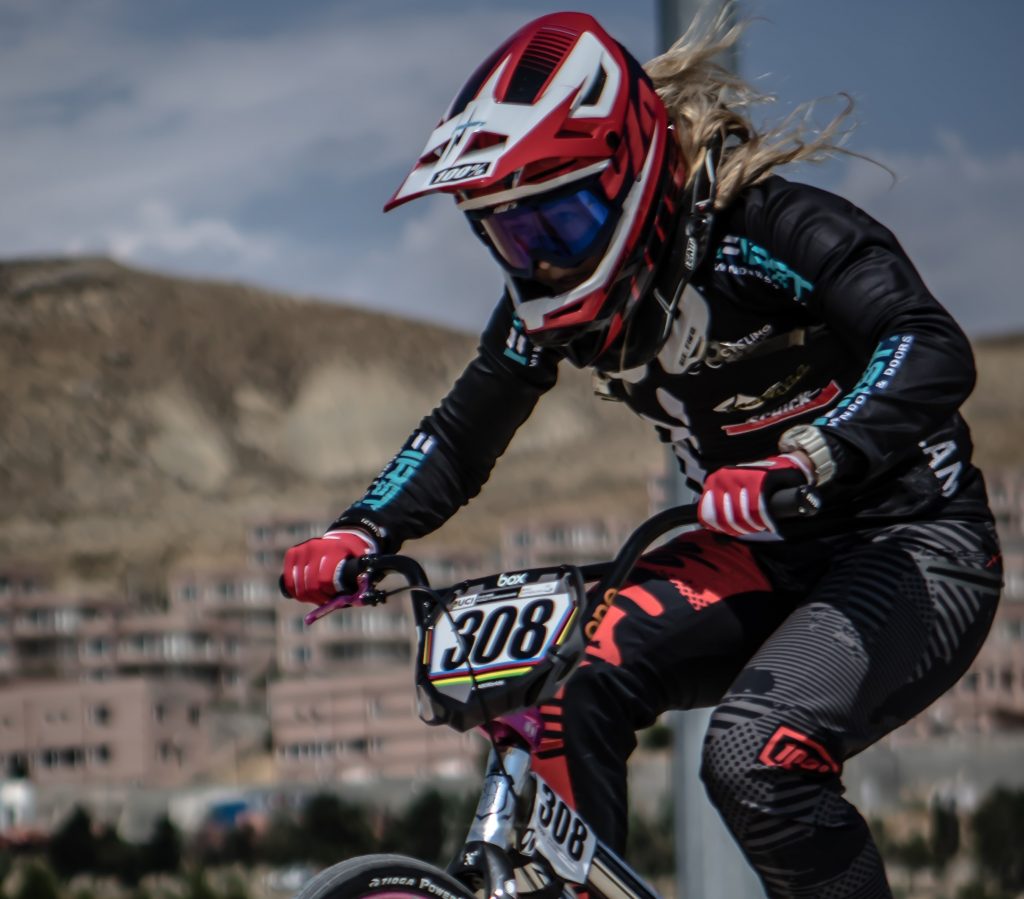 The former junior elite world champion, Maynard Peel (Sunset Coast club) had pushed into a qualifying position after a fifth and third placings in the first two motos. But he lost a pedal going over the big second jump and crashed to end his championship hopes.
Teammate Cody Hobbs (Te Awamutu), the national champion, also did not progress from the qualifying phase.
Hamilton's Cailen Calkin, after a stellar young career in Challenge class racing, qualified equal second from his motos at his first world championship junior elite competition. He was sixth in his quarterfinal and did not progress, while teammates Ryan Jordan (Hamilton) and Luey Cotton (Kapiti) were both sixth in their respective qualifying motos.