Swapping Tauranga's mid-winter chill for the searing temperatures of South Carolina is the biggest challenge facing Karepa Heke-Kaiawha, 13, and Mitchell Wragg, 15.
The Tauranga BMX members will compete in 10 days' time at the 2017 BMX World Championships in Rock Hill where temperatures are 35C-37C.
It will be the second world championships for both riders after competing in Auckland back in 2013.
Tauranga BMX spokesman John Wragg says the weather is a big factor.
"We hit Rock Hill next Friday and it will be 37C. It is a big change for these guys to adapt from the New Zealand winter, to get into that heat and keep the hydration up.
"It is a long track too so it is going to be pretty challenging for our guys. It is hard and fast and generally there are a lot of crashes at worlds."
Karepa and Mitchell have been spending long hours at the Cambridge Rd BMX track under the guidance of former Olympian Kurt Pickard.
He is preparing riders from Auckland, the United States and Latvia for the world championships as well as the two from Tauranga.
Pickard will be in Little Rock and rates Karepa's chances highly.
"He is Oceania No 1 so that says enough. His chances are right up there. It is his first taste of actual international stuff besides Australasia so that will be a good hit out for him.
"If he unleashes and he is not shy then he is in with a good chance. When he puts his mind to it and is focused there is a lot there.
"For Mitchell it will be good experience for him to get a taste of international stuff. We'll see how he goes."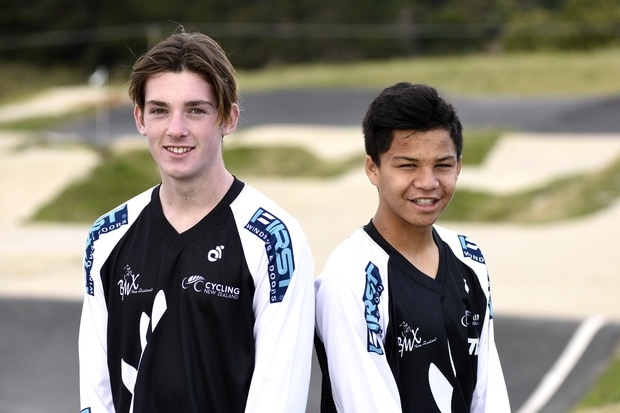 Karepa has good reason to be confident after being crowned Oceania's No 1 13-year-old rider in Australia at Bathurst in March. He is also the No 1 New Zealand rider in the 13-14 age group Cruiser division.
"I guess my chances are 95 out of 100 per cent. When I won in Australia I think they [Australians] were angry. None of them could pronounce my name so that was pretty funny," he said.
Mitchell made the quarter-finals in 2013 and is looking forward to the challenge ahead.
"The key is after each race to take your top off and we have cooling towels to help cool down faster. Just relaxing I guess is important," he said.
There were three Tauranga riders going to the world championships but Jakub Bourke, 16, broke his leg training.
"He is a really promising rider and put in a ton of work for this event. He mistimed a jump and will be out of riding for 12 to 18 months so that is pretty devastating for him," Wragg said.
The world championships at Rock Hill are on a massive scale with 3000 amateur riders and 300 professionals from more than 40 countries competing from July 25-30.
-BAY OF PLENTY TIMES