Tokyo Olympian Rebecca Petch and North Harbour's Michael Bias scored a hattrick of elite titles in a row at the BMX National Championships in Hamilton.
Petch won all three of her motos to claim her third elite crown and her 13th national title since taking up the sport at age three, while Bias won his fourth elite male honour and third in succession.
Around 550 riders representing 27 clubs from Southland to Whangarei competed under strict red light covid conditions, with BMX New Zealand and Hamilton club organisers splitting the weekend into four standalone events, with a full clean of the facility between half-day events.
Petch, building up for another European campaign, was untroubled in winning her three motos ahead of the under-23 winner, Hamilton club rider Baylee Luttrell, home from her base in Denmark.
"I handled it ok without the most ideal lead-up," said Petch. "I just tried to stay calm, and race as hard as I could. I focussed on keeping to my processes, get a good gate, hold my line and be nice and smooth around the track.
"I am used to 8m hills but it was good to get the variation. You had to think a lot more with the smaller jumps and not over-jump. It is nice to race on a different track.
"It means a lot to me to win the title and keep the winning record going. I will head to Europe in mid-May to get the World Cup started and get the Olympic qualifying cycle underway from August."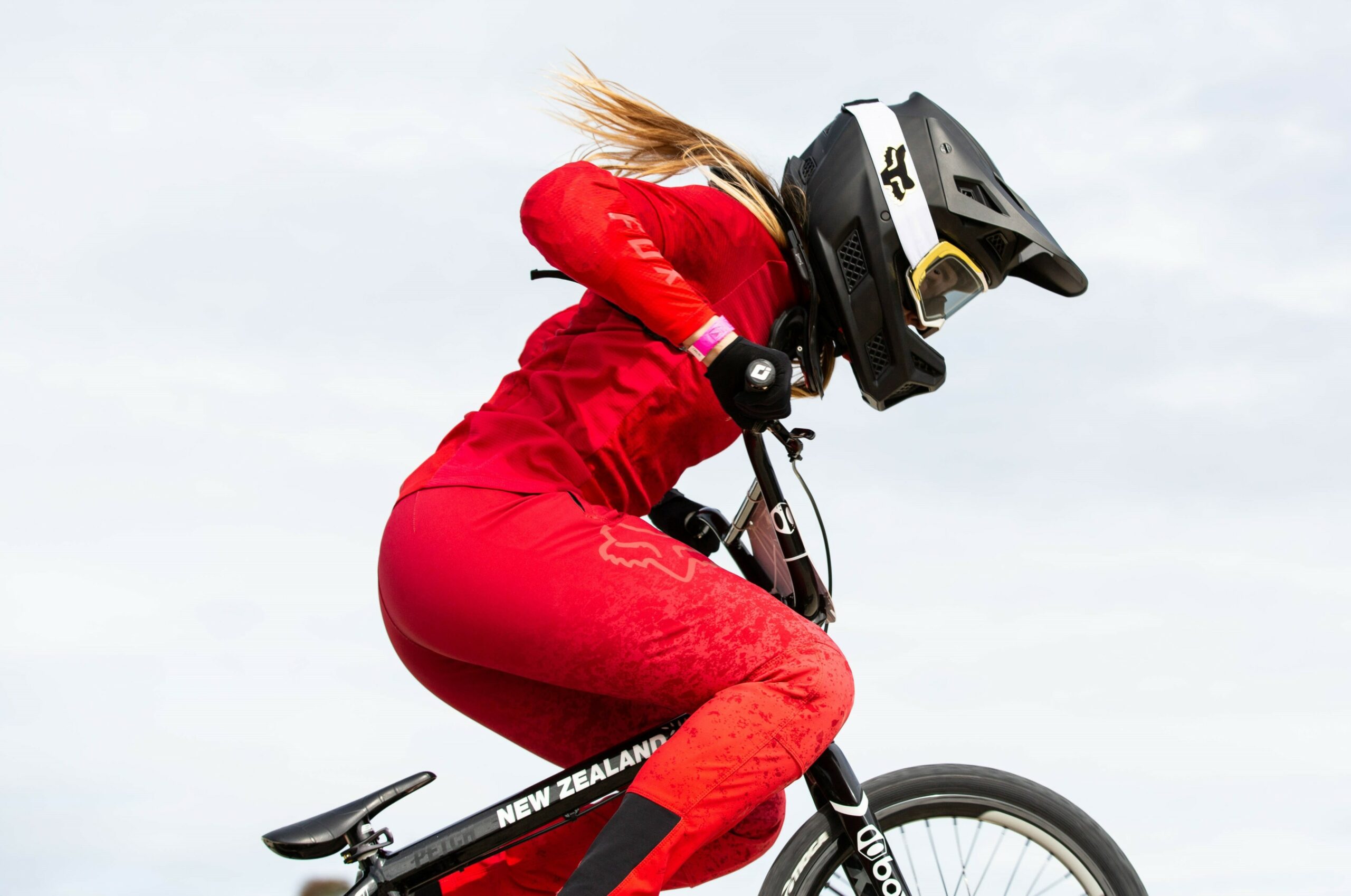 In the combined grade, Bias, third in the opening race, won the final two motos to edge Rico D'Anvers who claimed the under-23 honours ahead of fellow Cambridge and last year's New Zealand representative Bennett Greenough.
"It was the end of a big training week for me. I am gunning for another European season and so this was another Sunday for me," said Bias.
"It is a cool national title to claim but may be it will mean more in 10 years when I can look back on it.
"This is a flat ramp and you had to create a lot of horsepower which is not my strength, so in a couple of motos I was not first to the first turn. I had to focus on my strengths – be smooth, create over-taking moves around the track, stay relaxed and focussed.
"It is a lot smaller than we race on the big supercross hills but it is cool to have a bit of variety. This track keeps you on your toes – the backsides are real steep which made you think ahead and be careful."
Bias is also heading to Europe with a point to prove.
"It is a year to prove to myself and everyone else that I am as good as I have been in the past and capable of performing at a high level overseas."
With the new under-23 grade combining with elites, there was interest in the elite junior racing, where multi challenge-class world champion, Leila Walker (Cambridge) won all three motos, holding off Rotorua's Megan Williams.
The powerful Cambridge club showed up in the men's junior elite class where Jack Greenough won all three motos to hold off Rotorua's Daniel Butterworth.
This year saw the return of the Mighty 11s trials, the 30-year-old tradition of selecting a Junior Test Team of four boys four four girls all aged 11 years, who travel to Australia to compete against the Australian Mighty11s.
This year the Trans-Tasman Test will held at the Sleeman BMX facility in Brisbane during the upcoming Oceania Championships, with the team to be announced shortly.
Results:
Elite, female: Rebecca Petch (Te Awamutu) 1, Caitlin Georgantas (Hamilton) 2.
Under-23: Baylee Luttrell (Hamilton) 1, Holly Oldham (Alexandra) 2, Olivia Levens (Kapiti) 3. Combined overall: Petch 3 points 1; Luttrell 7, 2; Oldham 10, 3.
Junior: Leila Walker (Cambridge) 3 points, 1; Megan Williams (Rotorua) 6, 2, Brooke Keown (Christchurch City) 10, 3.
Male: Michael Bias (North Harbour) 1, Cole McOnie (Te Awamutu) 2.
Under-23: Rico D'Anvers (Cambridge) 1, Bennett Greenough (Cambridge) 2, Liam Goodwin (North Canterbury) 3. Combined overall: Bias 5 points 1, D'Anvers 7, 2; Greenough 7, 3.
Junior: Jack Greenough (Cambridge) 3 points, 1, Daniel Butterworth (Rotorua) 6, 2, Louis Hunt (Cambridge) 11, 3.
Challenge class:
Male:
8 years: Jake Pomare 1, Issac Tseng 2, Caden McKenzie 3.
9 yrs: Nicoh Meyer 1, Jai Matene 2, Finn Lawrence 3.
10 yrs: Leon Dumbell 1, Rico Ryan 2, Austin Stronach 3.
11 yrs: Nixon Banks 1, Ben Anderson 2, Blake Andrews 3.
12 yrs: Riley Smart 1, Charlie Leyser 2, Lucas Matene 3.
13 yrs: Deacon Connor 1, Bruno Nemedi 2, Daniel Mason 3.
14 yrs: Luke Brooke-Smith 1, Jack Young 2, Tom Coleman 3.
15 yrs: Finn Cogan 1, Nick Cowie 2, Jack Gebbie 3.
16 yrs: Ben James 1, Gabriel Roberts 2, Cameron Laing 3.
17-29yrs: Lewis Smith 1, Scott Donaldson 1, Nick Sinclair.
30-39 yrs: 1, Adam Coker 1, Richard Stratford 2, Allan Frank 3.
40-44 yrs: Tim Ferguson 1, Lance Dinsdale 2, Glen Ogle 3.
45-49 yrs: Derek Jelgersma 1, Ken Feist 2, Gareth Lauchlan 3.
50 plus: Dave Mohi 1, Greg Hughes 2, Leigh Wilson 3.
Female:
8 yrs: Skyla Hansen 1, Amelia de Thierry 2, Ruby Buckley 3.
9 yrs: Nessie Rennie 1, Hazel Chapman 2, Arla Saker 3.
10 years: Maddy Newcome 1, Khloe Dinsdale 2, Honor McCabe 3.
11-12 yrs: Nicola Mapu 1, Meg Cannon 2, Beth Walker 3.
13 yrs: Danika Bergersen 1, Madeleine Hunter 2, Millie Waite 3.
14 yrs: Molly Inia 1, Nadia Gabbiani 2, Nikita Clarke 3.
15 yrs: Lily Greenough 1, Hannah Mason 2, Renae Colman-Savage 3.
16-24 yrs: Sacha Earnest 1, Lily Huband 2, Tayla Arnold 3.
25plus yrs: Tahlia Hansen 1, Toni James 2, April Haines 3.
Cruiser:
Male: 8-10 yrs mixed: Rico Ryan 1, Angus Morgan 2, Nealson Uerata 3.
11-14 yrs: Tyla Dinsdale 1, Bruno Nemedi 2, Max Richardson 3.
15-16 yrs: Cooper Richardson 1, Nick Cowie 2, Jack Gebbie 3.
17-34 yrs: Nick Sinclair 1, Karl Ellis 2, Kirk Matthews 3.
35-39yrs: Adam Coker 1, John Hayes 2, Brad de Thierry 3.
40-44 yrs: Lance Dinsdale 1, Kahu Burns 2, Desmond Anderson 3.
45-49 yrs: Dion Newth 1, Derek Jelgersma 2, Philip Armstead 3.
50plus yrs: Greg Hughes 1, Darryl Winsor 2, Richard McLachlan 3.
Female:
17-39 yrs: Toni James 1, Selina Pfister 2, Tayla Arnold 3.
40plus yrs: Kushla Chapman 1, Steph Hoek 2, Sonja Rennie 3.