INJURY, surgery, recovery, resurgence.
It's a step-by-step process heading in the right direction for New Zealand BMX champion Nick Fox as he continues to be driven by an unyielding determination to reach the ultimate sporting stage — the Olympic Games.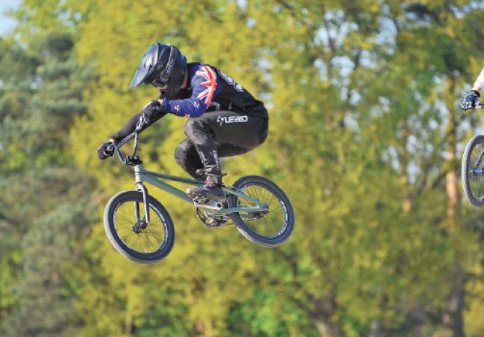 The Auckland-based Gisborne man is in the United States preparing for the UCI world championships at Rock Hill, South Carolina, at the end of the month.
He is no stranger to America, having competed and trained there extensively in his career.
But this time he goes in as the New Zealand elite men's champion and with a clear vision of what he needs to do to stay on track for Tokyo 2020.
"I have the next three years of my life planned and have a pathway set of where I want to be," the 23-year-old told The Herald this week.
Rewind to the start of last year, however, and Fox then was a far cry from Fox now.
In 2015, he spent three months recovering from a dislocated right shoulder suffered in a crash. It left him with "stretched" ligaments in the shoulder.
Worse was to come. During a camping trip to Lake Waikaremoana in early January 2016, Fox fell from a ski biscuit being towed on the lake — "like I had hundreds of times before" — and dislocated his shoulder again.
Ligaments torn
This time the ligaments were torn from the bone.
In February last year, he had surgery to reattach the ligaments and faced what he described as a "daunting" recovery period of eight to 10 months.
"The thought of quitting BMX racing was certainly in my head."
Not for long.
---
---
"I knew I had unfinished business. I moved to Auckland to take up a role as a club coach for East City BMX, which happened to be directly across the road from the rooms of my surgeon and physio.
"By July 2016 I was back riding the bike. By October I had done all the work for my shoulder rehab. I began a trip to the USA to do a training block and to take part in my first race in over 12 months."
It was a case of diving back into the sport at the deep end — the USA BMX Grand Nationals, one of the biggest races on the USA pro circuit.
"I went in feeling confident. I ended up making the final and finished eighth … one of the biggest results of my career so far."
Fox returned to New Zealand for more racing and also headed over the Tasman for the Australian pro series.
The season-opener was in Nerang, Queensland, where he picked up second and third placings, followed by an eighth in Shepparton, Victoria, and a fifth in Cairns.
"The level of racing in Australia was extremely high and set me up perfectly for the New Zealand national championships at Easter.
"I had not raced at the national champs since 2013 due to injury but this time I was 100 percent sure I could win if I rode to the level I knew I could."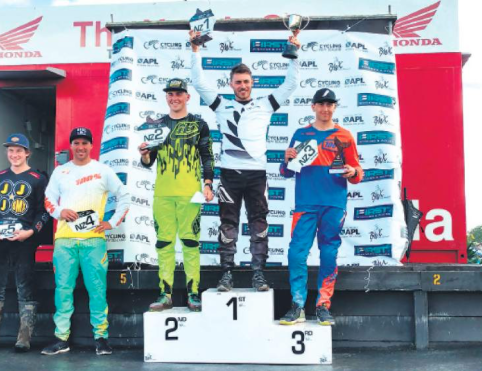 Two firsts
Fox had two first placings and a second in qualifying, which earned him an inside lane selection for the elite men's final.
"I was able to pull out one of my best starts of the day and led from start to finish, picking up my first New Zealand national title."
He has a world age-group title to his name (15-to-16-year boys' cruiser class in 2009) but had never won a New Zealand title, finishing second or third "about eight times".
"So the elite title was not only my first, but I believe the first elite title won by a Gisborne BMX racer."
That milestone, and his form leading up to the nationals, earned him selection for the New Zealand elite team for the world championships.
"I had not been able to race for New Zealand at the world championships since 2012 and it was a major goal of mine when I embarked on my recovery in 2016."
Following his training at Rock Hill, Fox will head to Florida to continue training, then return to Rock Hill for the worlds at the end of the month. The elite races will be run over one day.
The short-term focus is the worlds but there is a carrot in the form of five rings looming large in the background.
"I have ambitions to make the 2020 Olympics and compete for more world titles in the future. I'm well aware that I have limited time left in the sport before 'real life' takes over, and I want to do everything I can to reach my goals."
Vital to that is the ongoing issue of funding.
"In 2017, Cycling New Zealand cut the BMX high-performance programme. I hadn't been a part of it since 2013 but I was fighting to get back in.
"It means the only funding is for current riders who are carded athletes or identified as development athletes. I sit in an awkward middle position where I don't currently have the results needed to be carded (top 16 in the world) but I am not identified as being a development athlete.
"I have to rely on my own income from coaching and still, to a large extent, the help of my parents (David and Caroline) for major campaign trips.
"I have had a considerable amount of help from East City BMX Club, helping me apply for funding for international flights, but this only covers a small portion of what I need.
"It is a daunting task figuring out how I am going to come up with it."
But he battles on, inspired by an Olympic goal and answering the question many talented sportspeople never did . . . "what if".
"I know I would regret it for the rest of my life if I gave up, coming so close to where I want to be."
-Gisborne Herald