A new Auckland BMX track is proving too challenging for young riders, an expert says.
Waterview BMX track and skate park was opened by NZTA in November but its pump track has already received scathing reviews.
Pump tracks are short continuous tracks that can be ridden without pedaling.
Empire Media Group founder Nic Scott, who reviews skate parks across New Zealand, said scratches on the track's peaks showed the humps of the track were too steep.
"The basic fundamental issue is the valleys are too close together and the peaks are too steep," Scott said.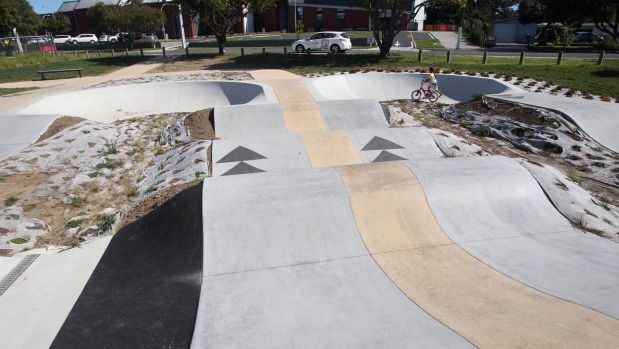 "You can't even roll over it, which kind of defeats the point."
"It's a nice idea, but a little bit of a poor execution."
The park was supposed to cater for both novice and experienced skateboarders and BMX riders.
Scott said when he tried it out toddlers and children under 12 were having a "hell of a lot of trouble" and even parents walking over to help their kids were falling down.
In February NZME reported that a 43-year-old man broke his leg while riding his BMX on the pump track.
On March 16 Mount Albert resident Chris Graham planned on taking his kids for a ride in the park but said it was too advanced for them.
"It seems like it's for a more experienced bike riding group," Graham said.
Graham said the concrete track looked easier than it was.
"In the 80s when I was a teenager I would go on BMX tracks that were like this but they were dirt, so I was curious about this one.
"But I think this is more advanced."
Scott applauded the council for building the track but said it was a shame about the bad design.
On social media site Neighbourly.co.nz Epsom resident Brandon Wong said the the peaks and troughs were too steep to carry any speed without "face planting".
He said the track could be fixed by partially filling in the troughs or by making two rollers into one.
Australian skate park design company Convic, which designed the pump track, said it would not comment on the BMX park.
A council spokesperson said it had not received any complaints about the BMX park.
The track and skate park are part of the NZTA Waterview Connection project linking Auckland's Southwestern and Northwestern Motorways.
– Stuff.co.nz