This time of year clubs are looking to grow their membership, often by holding Open Days or Have a Go Days.
On these days it is important to maintain your high safety standards by keeping to the rules and taking responsibility for the safety of those trying out the sport.
Insist that all riders, old and new, follow the safety gear rules of full face helmet, compliant racing clothing, gloves and footwear as described in the rule book.
Carry out a bike scrutineering session prior to anyone being allowed on the track, and not just for new riders. Remove stunt pegs, carriers, stands and anything else that isn't required for racing that could cause injuries during an accidental impact with the ground or another racer. Test brakes, check wheels are rmly attached, we've all seen what happens next with that scenario. Also check that handle bars have end caps or plugs, core samples aren't nice. Make sure the bikes are fit for purpose.
Lastly, although new riders have probably been on the track before, we shouldn't assume they can handle racing with others from a gate start. Just like you can drive your private car around Mount Panorama, but are unlikely to be allowed to enter the Bathurst 1000, for obvious reasons, that's just silly. Do we expose new riders to race conditions without a minimum of instruction? Do we expose our experienced riders to newbies who have no idea what to do in race conditions? Manage the risks!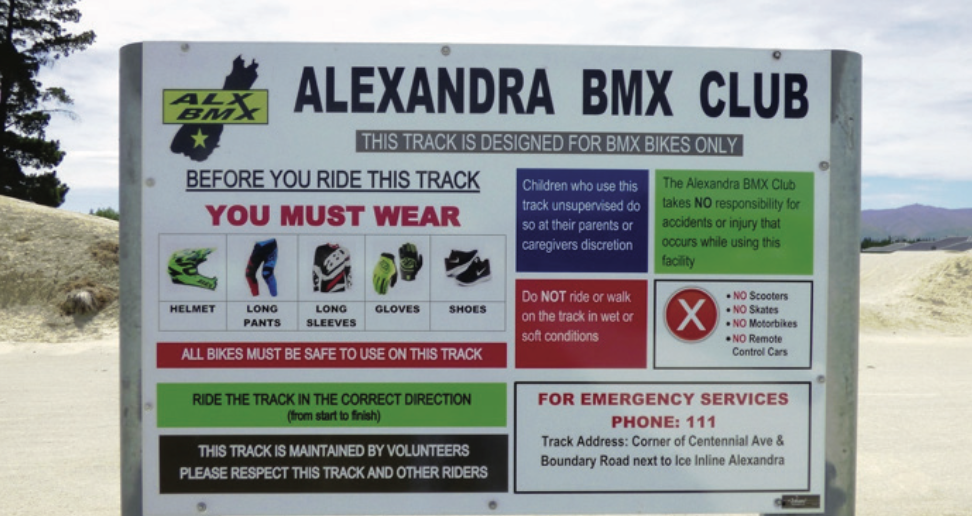 How good is your Health & Safety signage? Do visitors to your track understand your requirements for using your track. Remember your track is an identi ed hazard, and has hazard controls to minimise the risk of injury to those who use it. Club members and licenced riders know what these controls are: Suitable clothing and safety equipment, appropriate bike, direction of travel, when not to use the track, how to get emergency help, etc……… Does your signage explain all this, do you have signage? Is your signage in a place where it can be easily read?
Hazards must be either minimised or eliminated. If we were to eliminate the hazards, we would be left with a sport called cycling, not what we're here for. So we accept we have a hazardous sport, and that experienced riders know how to minimise those hazards. The general public has no idea!