Tauranga BMX Club proudly hosted the inaugural BMX @ NZCT AIMS Games International Sporting Championships event in September 2016, sponsored by Rad Cycles.

A massive THANK YOU to the 86 athletes from Invercargill to Whangarei who entered, you are all history making BMX'ers who competed alongside 9,300 other Year 7 &
8 intermediate students this year at the prestigious NZCT AIMS Games. All competitors raced hard, raced fair, and most of all had fun and of officials praised you all for your excellent behaviour and patience, we hope you are all very proud of yourselves.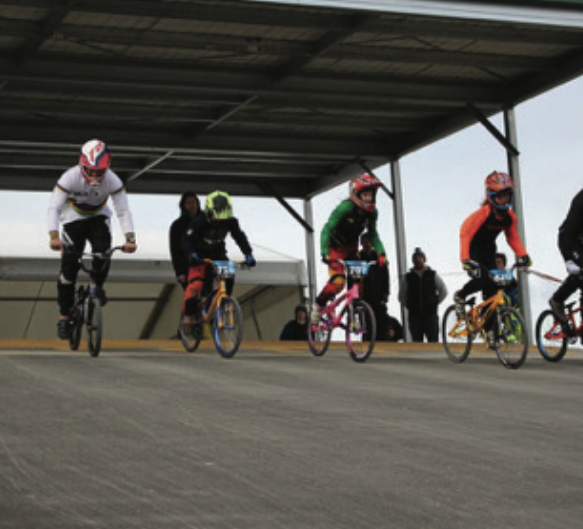 An action packed AIMS Games week included a Time Trial event, Individual Motos, and School Cup Team event.
The first Time Trial AIMS Games Shield record holders are:
Yr 7 Girl Megan Williams (40.74s),
Yr 7 Boy James Whyte (39.18s),
Yr 8 Girl Ruby Laidlaw (39.94s),
Yr 8 Boy Bennett Greenough (37.57s).
Individual Motos were hard and fast races on Thursday, finalists in each school year were:
Year 7 Girls
Leila Walker (Gold)
Megan Williams (Silver)
Jenna Hastings (Bronze)
Year 7 Boys
James Whyte (Gold)
Will Coombes (Silver)
Logan Hall (Bronze)
Year 8 Girls
Ruby Laidlaw (Gold
Maia Colman-Savage (Silver)
Abbey Simcock (Bronze)
Year 8 Boys
Bennett Greenough (Gold)
Ollie Robinson (Silver)
Finn Currie (Bronze)
School Teams of 2 raced for the BMX @ AIMS Games School Cup. John Paul College (Team 1) won gold, Cambridge Middle School 2nd, John Paul College (Team 2) 3rd, and Hautapu School 4th. Congratulations riders, your team shirts looked awesome too!
It was a privilege to have some of our NZ BMX celebrities present. Many thanks again to Kurt Pickard, Trent Jones, Sarah Walker, Maynard Peel, Rebecca Petch, and Hannah Sarten for donating your time to support these athletes, signing autographs/posters, and presenting medals. We hope you enjoyed your day trackside watching the racing for a change, the riders were truly honoured to have you all at AIMS in Tauranga.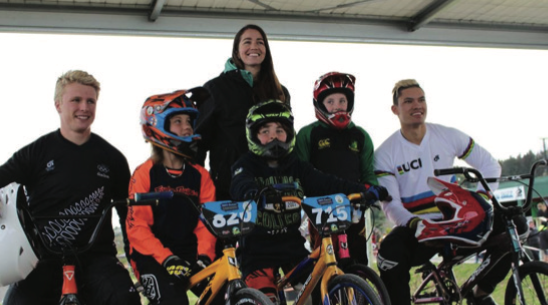 Tauranga BMX Club celebrated sportsmanship and fairplay during AIMS week and athletes who demonstrated these attributes were nominated by managers and of cials. Winners were selected by Trent Jones and Sarah Walker. Congratulations to our sportsmanship winners Tayla Arnold, Finn Currie, and Mason Bollee who completed a lap of honour with Trent, Maynard, Rebecca, and Hannah to celebrate their awesome attitudes.
Lily-Kate Hovell-Allomes was nominated by the Race Commissaire to win an attitude award for competing and racing in BMX @ AIMS despite being legally blind, Lily tells us that she counts the jumps!
Athletes also got to meet and work with Alison Shanks (Olympic Ambassador) and Watt Bikes, thanks to you both for your contribution to making BMX @ AIMS Games memorable.
Tauranga BMX Club extends many thanks to all club members who made this event outstanding, what a proud week to be a Tauranga BMX Club member, and thanks for listening to me go on and on about the AIMS Games for the last 3 years! Tauranga BMC Club would also like to thank all NZ local BMX clubs, managers & schools for supporting your riders, to Vicki Semple and the AIMS Games Trust for accepting BMX, BMXNZ and Dion for supporting Tauranga Club in this initiative, Rad Cycles for their sponsorship, our Race Commissaire Kim Smith for keeping the riders safe out on the track.
BMX Racing @ NZCT AIMS Games is an annual event and the Tauranga BMX Club are looking forward to hosting.