It began as a young boy's dream, but now plans for a major BMX park are on track to becoming a reality.
School boy Axell Simpson-Allan, 10, wrote to the Marlborough District Council earlier this year asking officials to create a BMX track in Marlborough.
The youngster could see his dream come true as a committee is formed to help spearhead the project.
And a possible location has been found for the new $200,000 track off Taylor's Pass Road in Blenheim.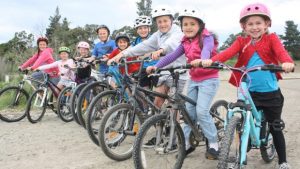 Axell came up with the idea after spending time visiting family in Oamaru and visiting the North Otago BMX track. He wrote a letter to then mayor Alistair Sowman asking for the project to be considered.
The Marlborough community rallied behind him and BMX New Zealand also came on board.
An in depth design proposal has now been put together for council to consider.
Axell's mother Anna Simpson says she is "really proud" of her son and his determination to see the project through.
"I'm totally proud of him. Ideally we'd like to see this up and running in 12 months. If we can get the right team together and the right person to project manage the development then it could happen really quickly.
"It would be such a great facility, not just for kids but adults too. There aren't many sports families can all do together these days but this is one of them."
The proposal would see a new track developed on vacant land behind Westmount School's Marlborough campus.
Plans include a track, training area, skills arena and viewing stands. It is hoped $30,000 set aside in the long-term plan by the outgoing council could be earmarked for the new development.
The park would then be leased to a yet-to-be-formed BMX club which would play an active role in encouraging community involvement.
Anna says BMX Olympic hopeful Sarah Walker has already confirmed she would attend the official opening. Anna is appealing for people across the region to help make the dream a reality.
"We do all lead busy lives but it would be great to get more hands on deck. We can't do this on our own."
Anyone interested in becoming involved in the project and joining the committee in some capacity can contact Anna Simpson on 021 270 2662 or visit the website on Facebook at www.facebook.com/marlboroughbmxtrack.
– The Marlborough Express