Oamaru's long-awaited BMX park should clear a final hurdle early next month when a BMX club is formed.
Leighton Selfe, who started the project to build a BMX track about two years ago, said this week he expected a club to be formed for the district "within the fortnight".
"There's a key group of about eight guys now raring to go," he said this week.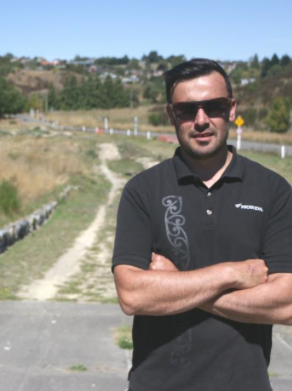 This month, the Waitaki District Council earmarked up to $35,000 towards a BMX track and car park at the Oamaru landfill site, which is expected to close this summer.
Councillors also directed council staff to sign a memorandum of understanding with the BMX club about to be formed.
The council committed up to $15,000 from its landfill rehabilitation budget to build the car park and approved up to $20,000 from RMA funding to go towards the planned $70,000 bike park.
Council community services manager  Thunes Cloete said after fundraising the club was expected to engage contractors and send the council invoices for the work done to build the track.
"Councillors wanted to keep control of that money. We didn't know who it was going to … It's a lot of money and you can't have no accountability," he said.
Mr Selfe said he was "happy as" with the arrangement.
Last month, he and Venture Waitaki chairman Simon Berry pitched the proposed "fully competitive" BMX park — and track design — to the council's community services committee as a track for young riders in the area that also had the potential to attract events to Oamaru.
At the time, Mr Selfe said the track would be "top class, but not so 5 to 10-year-olds can't ride it".
It would complement the proposed learn-to-ride bike park at Oamaru Harbour as well as enhance the town's connection to cycling through the Alps 2 Ocean Cycle Trail.
In August Mr Berry spoke about a BMX track's potential economic benefits: he said the BMX park would be an amenity that families relocating from Auckland or elsewhere would consider along with Oamaru's affordability and lifestyle; North Otago would increase its ability to "build athletes"; and an event such as a South Island championships could bring about 400 riders into town.
Mr Selfe, who is also a Venture Waitaki member, said the community and the council had been very supportive of the project.
Fundraising for the track, through Venture Waitaki, would not begin until the BMX club was officially formed, he said.
– Otago Daily Times