After weeks of vandalism, a Rangiora BMX track has security patrols.
Vandals had ripped up sections of the North Canterbury BMX track on Millston Ave by riding motorbikes on the track after it rained.
The damage would take club members hours to repair.
Rivertown Security owner Nigel McFall has volunteered his company's services to the North Canterbury BMX Club to patrol the track. Rivertown Security would change its name to Waimak Patrols in November.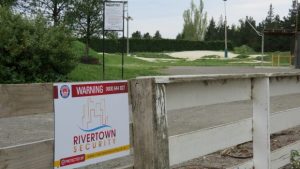 McFall said he had heard of the vandalism through Facebook and contacted the club about putting patrols in place to deter the vandals.
"Where there' a community need, we'll be there. That's the responsibility of a local company."
He said the company would provide two to three patrols a night and more over the weekend as a minimum, and more if they had time.
Rivertown Security had also installed signage at the track, which McFall said could prevent further damage.
"It's about making people aware that there has been a change and that there's someone looking out for the park."
The company had previously deterred vandals on Flaxton Rd with patrols and planned to continue the patrols for the BMX club.
"I see it continuing long term. It's a good community thing to get involved in."
– Stuff