New Zealand's Trent Jones summed up his racing at the 2016 Rio Olympics nicely in an interview with Andrew Mulligan from Sky Sports.  
With a solid effort in his first semi-final heat, Trent finished third in a convincing race.  In the second heat, Trent jumped into the second corner but didn't land straight and went down heavily with Venezuela's Jefferson Milano riding into Trent.   Trent finished the race in 7th place with a blown rear tyre.
"It's only skin, it'll come back" says Jones of his fall into the second turn.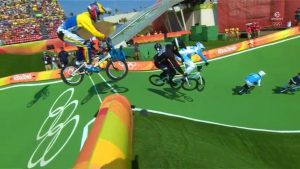 In his 3rd run, he trailed the field out of the start gate before making a place up by the finish but ended with 17 points – five off what he needed to finish in the top four and make the final.
Jones said he was disappointed with the result having made such a promising start.
"It's a bitter pill to swallow, I haven't achieved what I wanted to do here, but I showed I have got the fight," he said.
"I started well, but she went downhill in the second, and I tried to bring it back in the third but it didn't go my way."
Mens Finals:
Connor Fields GOLD🇺🇸🏅
Jelle Van Gorkom SILVER 🇳🇱
Carlos Ramirez BRONZE🇨🇴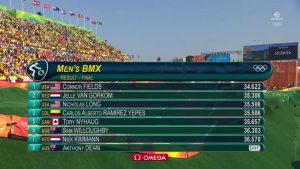 Womens Finals: 
Mariana Pajon GOLD🇨🇴🏅
Alise Post SILVER🇺🇸
Stefany Hernandez BRONZE 🇻🇪