Nationals is here! I am so excited to see my friends from all over NZ and race the fastest girls in my age group. It is so nerve-wracking because I want to race the best that I can and get a good result.
I feel rewarded when I have done my best and raced a smooth race no matter what the result is. Still I hope for a place in the final and hopefully on the podium!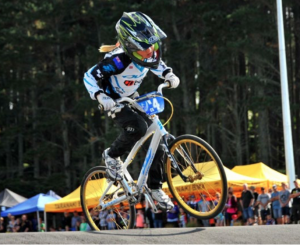 I watched and cheered for the Mighty 11 selection on Friday, it was very exciting seeing all the good riders meet together and wondering who would get the four places in the team. I hope one day I will get on the team to race the Australians too.
Saturday was my race day, the weather was good and the track felt awesome. I was really nervous for my first race and relieved when it went well. I felt like I got smoother, faster and more confident as the day went on through motos, semis and then it was finals time!
I got first lane pick and chose lane two, "Riders ready, watch the gate, beep beep beep!" I got a got a good gate but I knew the girls would be right with me and I would have to race hard all the way. I crossed the finish line and I was really excited to be first!