Cambridge 12-year-old Leila Walker has continued her remarkable run of performances to win a fifth straight UCI BMX World Championship title in the USA today.
Walker won the girls' 12 years title on the first day of the Challenge Class (age group) racing at the impressive Rock Hill BMX Centre in South Carolina.
She won her age group world title for eight year olds at Auckland in 2013, nine years at Rotterdam in 2014, 10 years at Zolder, Belgium in 2015, 11 years in Colombia last year and now for 12 year olds at South Carolina.
Walker cleared out from the get-go, winning all three of her qualifying motos, the quarterfinal, semifinal and then dominated the final in a strong field against three American riders, two from Colombia and one each from Peru and the Netherlands.
Today's racing was for ages five years to 12 years for girls and 11 years for boys.
Five Kiwi riders earned World Championship Plates and Finals Trophies for top-eight placings today.
Auckland's Meg Cannon from the East City club finished third in the 5-7 years class, after winning won all three motos and her quarterfinal before placing third in both the semifinal and final.
Auckland's Sacha Earnest (Mountain Raiders club), a three-time world champion, won her motos and eighth final in the 11 years class. She was second in both the quarterfinal and semifinal, but got caught up after the start in the final, going on to finish sixth.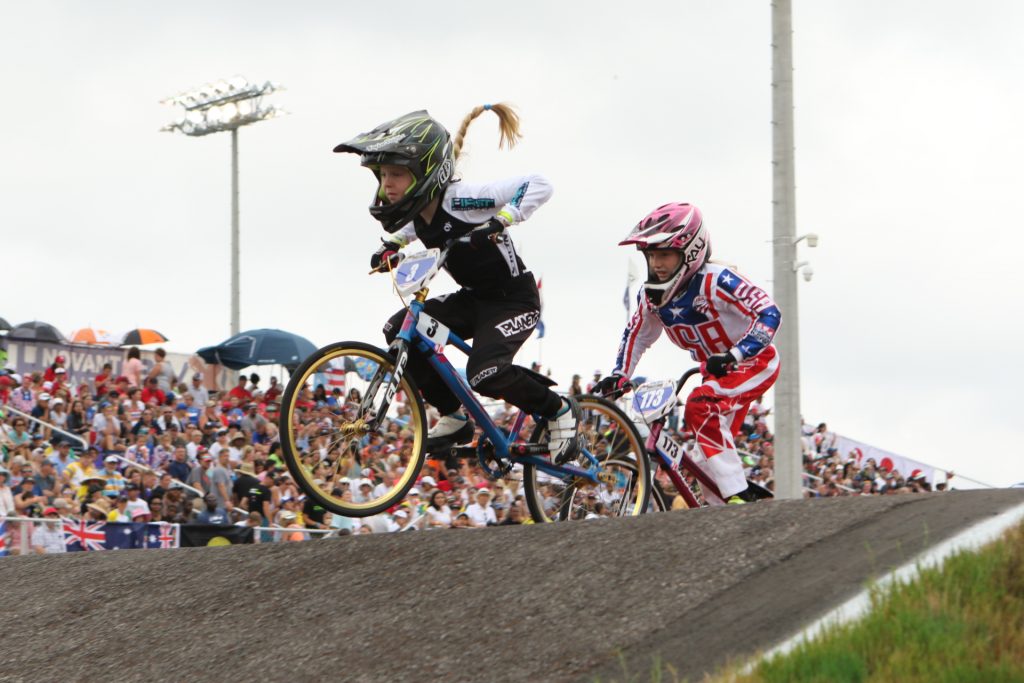 Lily Greenough from Cambridge, racing in the 10 years category, was another to win her motos, placing third in the semifinal and also getting caught up in the hustle and bustle off the start of the final, finishing eighth.
Northland's Luke Brooke-Smith (Whangarei club), who was fourth at the world championships last year, led the points in the motos in the boys' nine years class. He was third in the quarterfinal, second in the semifinal and sixth in the grand final.
Earlier Cambridge rider Kobi Russell finished seventh in the semifinal of the eight years class.
Tomorrow sees further racing in the Challenge class for 12-17 years, followed by over 17 years racing on Saturday before giving way to the Elite racing on Sunday (NZ time)
Leila Walkers' impressive final video:
FULL RESULTS: http://www.uci.ch/bmx/ucievents/2017-bmx-uci-bmx-world-championships