My 2016 BMX worlds journey began when me and my mum flew out of Auckland airport 16 May and landed in Medellin, Colombia on the 18th. The weather was very hot and humid, but bearable. We thought it was best to arrive in Medellin a few days before the worlds to acclimatize and to get use to the new environment. We met up with other Kiwi's and went to a few tracks around Medellin to get our legs moving and our bodies used to riding in humid conditions. The tracks are very different to the tracks we have back home and I got some good track time in, to feel like myself again.
Our official practice days were on the 23 and 24 May, us Kiwi's were in the first practice block. The track was smooth and fast and played to our advantage, as it was a big track with good jumps and nice corners and was very similar to our tracks back home. I liked the track and used every lap to make sure that I had dialled every straight in. After day two of practice on the worlds track I knew I had done everything that I needed to do and was feeling confident on my 20" and felt I did not need to practice on my cruiser.
It was race day for the 12 and unders, I was there the whole day to support our riders and was happy to help out where I could. I took our world champion Sacha Earnest under my wing and mentored her throughout the day.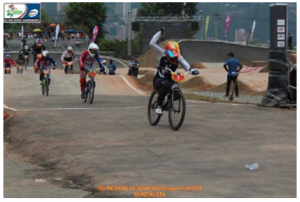 I had prepared myself to the best of my ability leading up to worlds and I was feeling good going to bed, my bike was cleaned to perfection and I was in a good head space. The morning seemed to come around straight away, I got hardly any sleep and wasn't feeling the greatest due to something I ate the day before racing. I knew I wasn't feeling the best but I chose to not let that affect they way I ride. We arrived at the track an hour before our practice was to start, but we had been told that the officials made a decision to push back practice and racing until the track was up to race standard, because of heavy rain during the night and the track was in a bad shape. This gave me a few hours to get more sleep and get my energy and fluid levels up. The line into staging for warm up was long and it was a hot day So I decided to skip practice to stay out of the sun and consume energy.
I managed to win my moto's and go through to the ¼ finals which I won. The semi finals where up straight away and this was the most nerve racking race of the day. It was either proceed into the finals or go home. I tried my best to feel 100%, but it wasn't happening and with the help from my mentor Sarah Walker she told me to block out the pain and have fun, I did just that and won my semi final proceeding onto the final where I placed 5th. I was happy with the result I got and knew that I did everything I could on the day.
It was cruiser day, I woke up feeling 100%, I was in a good mood from yesterday feeling proud of my efforts and knew that today was a different day. I got to the track bright and early ready to have my first practice on my bike since New Zealand! I thought it was best to make sure I was comfortable on my 20", as this was my main event. I felt confident that I didn't need to practice on my cruiser until my race day. I managed to get 3 laps in on my cruiser before racing.
I got 1st in my first two moto's and knowing that it was a really long track and each lap drained so much energy out of me, I choose to save energy in my third Moto and settled for a 2nd. I won my ¼ final and my semi final, going straight into the final. I was in good spirits and my body felt good and my head was in the right place. I had first pick so I choose lane 8, because I wanted a clean run to be able to jump the first straight.
I am now the fastest 16 and under cruiser female bmxer. My 2016 BMX world championship experience is one to remember, coming home with World 5 and my third world title, my first on cruiser is something to be proud of and I am very grateful for everyone's support.