New Plymouth's new $600,000 world class BMX track has opened to the public.
While an official opening ceremony won't be held until a competition next month, sponsors and supporters were shown around the track on Sunday morning, where they were told the "keep out construction" signs were coming down and it was ready to be used.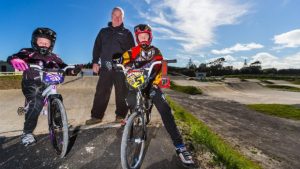 Construction at the Bell Block site began in July last year and while there are still some additions to be made, including a second starting ramp, the track itself was finished and ready for the New Plymouth BMX club to begin training on.
The track was built by the Taranaki BMX Trust, which will lease it to the club, and trustee Blair Riddick said he was relieved, ecstatic and proud that it was finished.
"I think we've got a good team that made it happen," he said.
While it is open to the public 24 hours a day, Riddick asked for users to respect and take care of the track and other users.
The track was designed and built by the same company that built the tracks at the Rio, London and Beijing Olympics.
The project had finished right on budget, he said, despite a few curve balls, including one of the bulldozers being taken for a joy ride the night before construction was due to start.
"The council said we had to have $600,000 in the bank before we got to go ahead," he said.
"And we've got $10,000 left, with a few things to finish up."
He said there had been a few international teams who had shown interest in hiring the track for training during the northern winter, when most tracks were snowed in.
"They can do speed training on the velodrome on the morning and skills training on the track in the afternoon," he said.
A number of people at the track opening commented on how different the track was compared to the previous one in Marfell and trustee Neil Cowley compared them to chalk and cheese.
Paula Eaton said the track would be good for her three children to train on as they prepared for the national competitions.
"They've ridden on a number of tracks around the country and the kids that go the fastest are the ones that train on tracks like this," she said.
 – Stuff