Nationals at Puni set the stage for what was going to be another epic challenge across the ditch as 32 trialists raced hard to be successful team members for our 2016 Mighty 11 team to travel to Sydney at the beginning of June.
As you know the successful riders were:
Boys
Karepa Heke Kaiawha (Captain) – TG
James Whyte – MR
Logan Hall – CB
Daniel Butterworth – RO
Girls
Leila Walker (Captain) – CB
Megan Williams – RO
Brooke Penny – TA
Caitlin Flavell – RO
With Nationals being slightly earlier this year, we were able to squeeze in 3 full on training weekends at Te Awamutu. The first Saturday the team raced in the Waikato superclass & it was great to see their racing skills again. We were joined by our reserve riders Tipene & Amber. Clive & I also invited some "randoms" to challenge our riders to push themselves.
The team had all put the hard yards into their expected training – it's no walk in the park! As with most things in life, you get back what you put in. Leila, Brooke & Tipene headed to Worlds leaving a smaller group for our final training. Thanks again, Te Awamutu Club for allowing us to train on your track. Exciting times ahead!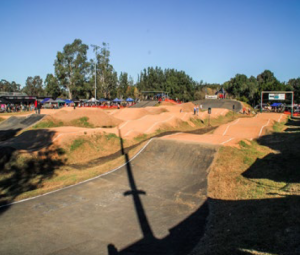 Early on June 3rd , we met at Auckland Airport to head to Australia. First stop Macarthur. This was the third year in a row we have stayed at this club! We can't have outstayed our welcome yet, if they continue to want us back & most of the billet families having had our riders to stay previously! Upon our arrival at the track, we assembled bikes & the team had a light ride. The Macarthur track is very different to any we have here with 5 berm corners. The kids loved it & it's got plenty happening with lots of opportunity to try new things. Raylene & Tipene met us there having travelled straight from Columbia.
The weather forecast for the weekend was terrible with torrential rain predicted. Friday night the rain began… and it didn't stop…. Planned racing at Penrith on Saturday – cancelled, planned training with Macarthur riders on Sunday – cancelled. The Penrith track was well and truly flooded, with only the peaks of the highest jumps visible along with the tops of the berms. So our flexibility with plans came to the forefront!
Macarthur is a great club with awesome people who went out of their way to help us out with ideas to fill in the WET days! Particular thanks to Mark Pace (his daughter Taya was in the Aussie team at Taupo). Mark organised ex pro BMXer Ben Hidalgo (Holeshot Fitness) to open & run a gym session for us on Sunday. It was a fantastic couple of hours – full on exercise for the kids playing explosive games. Money well spent! Following the gym, we went to a covered carpark to do sprints until the carpark became too busy.
Monday, the rain had stopped but no tracks were rideable after the quantity of rain NSW had so off to the Monster indoor bike/skate park we went. This is situated within Olympic Park – a place I have always wanted to see. Then it dawned on me… none of these kids were even thought of when the Olympics were in Sydney!! Lots of fun was had at the bike park with Nitro Circus like rider trains proving to be popular!
Monday evening things were drying up so we had fingers crossed for some track time on Tuesday. The Macarthur track had dried enough & as NZers are now well known for – Clive set to work starting much need track repairs & was joined by Allan, Chris, Ken, Zach & Adam. YAY – track time – finally!
Our original plan for Wednesday was to travel to Penrith to train where we were racing on the weekend however this training had to be cancelled (much to the disappointment of the Penrith Club) & we trained at Macarthur again. All the training sessions were going well at this point with no crashes!
After training, we went to Penrith & in the afternoon we met up with our billet families. The Penrith Club members had been working extremely hard to get the track ready for training & racing. Thursday morning was our first training session on the weekends' race track. While we trained, our NZ men again helped the Penrith track team to finish off track work & Lyle had helped the afternoon before.
Julia (Aussie Manager) & I had arranged an activity for both teams to get together, this happened Thursday afternoon & we went to ifly. It was an amazing activity & great to see the teams mingling prior to racing.
After quiet team time Friday morning, we had our second & final training session at Penrith. We chilled for the afternoon, took team photos at a local dam then got ready to go to the Mightys dinner. It was another great experience with our team captains Leila & Karepa doing a fantastic job reading their speeches & introducing their team members. They did us proud!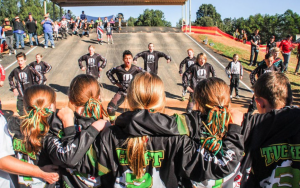 Saturday – Race Day…. This was it. Preparation & training had all culminated into racing our hearts out to retain those spectacular trophies. Racing started with the first Mighty 11's class race which helped settle the nerves. We knew we had a strong team & thought our girls would be hard to beat but knew the boys would come down to the wire. With 2 W1 riders in the Aussie boys team, close racing was going to be on the cards. The first test was exciting. Our boys won by 1 point, our girls won by 7. Second test stretched the leads out a little more – our boys ahead 42 points to 36 – James was on fire, winning both Saturdays tests. Our girls were ahead 49 to 29.
Heading into Sunday, the girls were sitting pretty comfortably but it wasn't time to be complacent. Our boys would need strong races & knowing the Aussies would have been wound up after day 1, they would come out fighting. And fighting they did, the Aussie boys were on a mission & each test they pegged back some points to head into the final & 5th test 2 points ahead of our boys. The girls totally controlled their tests. Leila & Megan's consistent 1st & 2nd placings & strong riding in the mix by Brooke & Caitlin secured the winning result earlier in the day. Leading into the final test, NZ boys had great lane draws so down to the wire it went…any team could take this… and Aussie did!
Final results:
Girls: Boys:
NZ 124 NZ 91
AUS 71 AUS 104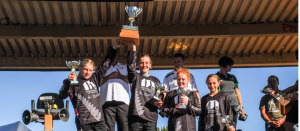 The Mighty 11 Class was just as challenging. After 4 moto's Karepa, James, Logan, Daniel, Tipene, Megan & Leila made it through quarters into the semis. The final was a line up of boys test team riders and after these guys had raced 6 races points over, the final was deadman. The final was won by Tyson Kenny (AUS) followed by James Whyte then Gian Renato (AUS) & Karepa 4th. Top female rider was Megan Williams followed closely by Leila Walker.
It was an awesome and exciting weekend of racing and a great 10 days together. Our team put everything on the track & they all should be very proud of themselves. The Mighty 11 Cultural Exchange is truly an experience to be forever remembered. Well done Leila, Megan, Brooke, Caitlin, Karepa, James, Logan & Daniel!
Words can not really describe how we all felt upon hearing the devastating news of Rangi's passing. Our thoughts for the latter of our trip were with Lisa, Cody, Clay, Cooper & Cannon. I spoke of Rangi's commitment to our sport & the greater Mightys' family at the Mightys Dinner and at the race meet. Our NZ riders raced wearing black arm bands showing our utmost respect to Rangi. Many Australians passed on their sadness & condolences.
I'm looking forward to the next trials at Pre Norths at Cambridge when the trialists will race their way into the new team. We will have a completely new group of boys & no doubt Leila, Brooke & Caitlin will be racing hard to retain their team spots in September! Exciting stuff. Interesting to note: BMXNSW no longer run trials motos for team selection, instead riders nominate to be considered for selection & the top 4 transponder times over the weekend prior to the finals are calculated for the top 4 boys & girls!
Cheers
Sharon Cheesman
Mighty 11 Manager