BMX Olympic medallist Sarah Walker took a low-risk approach in windy conditions to qualify on the opening day of the UCI BMX Supercross World Cup in the Netherlands today.
Walker, who is back competing just 10 weeks after fracturing her arm, managed three safe mid-pack runs to qualify for tomorrow's elimination motos at Papendal. She had two fourth placings and a third to qualify comfortably.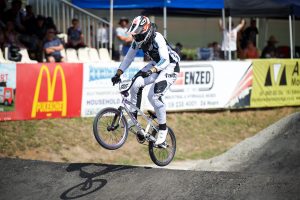 The windy conditions played havoc when defending champion, double world and Olympic champion Mariana Pajon crashed during final practice. Her suspected dislocated shoulder may sideline the sport's biggest star from competing at the world championships to be staged for the first time in her home country of Colombia.
"Sarah played on the safe side in the winds and rode sensibly," said Cycling New Zealand BMX coach Ryan Hollows.
"Her aim was to racing through in the qualifying motos today and into the main game tomorrow. We will see how the arm is tomorrow and the conditions, but this weekend is safety-first.
"Today's racing keeps her Rio qualification on track though and we will see what the weather brings tomorrow."
Also through are both Kiwi men in Trent Jones and Matt Cameron.
Jones crashed in the opening moto, finishing seventh but then rode strongly to grab two wins to move through to tomorrow's elimination rounds.
Teammate Cameron was also in consistent form with a third, a win and a second placings to also see him into tomorrow's rounds.
"The weather will be the key as the forecasts are for even higher winds which could be dangerous over the big jumps," said Hollows.
The men's competition drew a record field with 19 eight-strong motos for qualifying today, while Canada's Tory Nyhaug and Australian Caroline Buchanan won their respective time trial superfinals for the ranked riders exempt from qualifying.
There are three further motos tomorrow for the qualified and exempt riders with the fields then reduced to quarterfinals for men and semifinals for women for the elimination rounds.