Tamai Riwhi is Alexandra's first National BMX champion.
Six year old Riwhi battled the country's top riders in her age group to come out on top at the BMX New Zealand National Championships in Auckland over Easter.  
Tamai's mother, Jodi Riwhi, said she had been riding in BMX since she was 4 and this was her second nationals.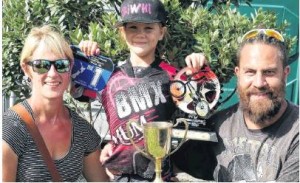 ''She thought that it was the best thing in the world . . . we're super proud of her, she's just gutsy and gives it her all all the time.''
Tamai loved riding BMX and Riwhi said she and her husband Tim encouraged Tamai to always give her best, which had paid off.
The next step was to look at competing in Australia, but they would wait and see.
The Alexandra BMX Club had 13 riders compete at the National event.
Two other club riders, Josh Smith and Duncan Sutherland, also came home with plates, finishing in the top six of their races.
Josh was fourth in the 15›16 year old male cruiser category and Duncan was sixth in the 15 year old male category.
Alexandra BMX Club president Carole Gillions said the three had done incredibly well, and Tamai's win was a first for the club.
Six other Alexandra club members made the semi› finals in their categories.
Gillions said all the riders who took on the extra challenge of preparing for and attending nationals did the club proud.
''It is a considerable commitment from the rider and the supporting family members.
''It is the final step of a season's hard work (and fun I hope). We are a small club and as shown by the results we certainly have highly competitive and high ranked riders.''
– The News
– NICOLE.SHARP