An 11 year old boy from Ohauiti, Tauranga. Riding and coached out of the Tauranga BMX Club. Started on a bike unassisted at the age of 2 and half and started racing BMX at the age of 5. He is also a Haro Race Team member led by Kurt Pickard.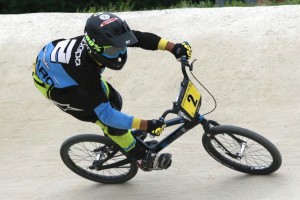 Karepa (Bob) achieved huge success at the BMX NZ North Island Championship in Taupo over Labour weekend.He recorded a massive 20 wins, 2 seconds and a third in a gruelling 23 races over the 2 day extravaganza. He was the only athlete at the event to enter and secure 3 separate trophies from three separate classes.
Firstly taking out Number One honors in the 11 Year Boys, Number One in the 11-12 Cruiser and a Second place while challenging for 1st during a thrilling final in the prestigious Mighty 11 Class, comprising of the current top 4 NZ and top 4 Australian 11 year olds.
Being part of the Mighty 11 training as the Reserve definitely assisted in developing his rider potential. His positive attitude and hard training had been a winning formula to the success, which has carried through to the Mainland South Regional Champs held recently in Invercargill. A key trait to keeping the interest alive is always having time to dedicate to both ride and play with friends who are often fellow competitors and their siblings.
Karepa looks to complete this year with qualifying in the newly formatted BMX NZ National Series Title in both 11yr Boys 20 inch and 11-12yr Mixed Cruiser by participating in both the North Harbour Northern Region and Hawkes Bay Central Regional Champs. Karepa then has his sights set for 2016 with the Oceania Event in January, the Mighty 11 NZ Test Team Trials and Nationals in Easter which are all held at Sunset Coast, Puni.