Coming into the norths at Taupo the test teams were feeling good. We were excited to have Mark Harland-Croft, the captain of the men's senior test team racing on his home track, Jamie Williams in the number 2 spot was on fire and making history by being the brother of Ashley Williams the number 4 senior women rider, the first ever twins to be in the NZ Senior Teams, and we had the two Waikato machines Cailen Calkin and Jack Lupton in the 3 and 4 spots.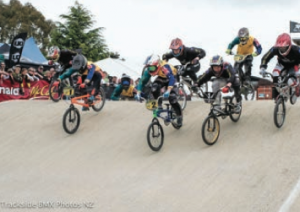 The woman's team was all class being captained by World number one Jessie Smith, gutsy Baylee Luttrell was in fine form and was the number 2 rider, Jordan Donaldson bought experience to test team racing as number 3.
The team had a couple of days getting used to the track but it was technical and challenging. Saturday morning was crisp and clear. Moto 1 started with Australia girls in lane 1,2,3 and 5 but the NZ girls came out with attitude and finished in 1st 2nd and 3rd and 7th starting the day with a 13 point lead.
The boys came fighting and unfortunately had the first of a few mishaps on the first straight and first corner but they all picked themselves up and got to the finish and after moto 1 the boys were 1 point behind
After 2 more motos , a bit more lost skin, outstanding courage and determination the points at the end of Saturday were Girls NZ 48 vs. AUS 69, Boys NZ 60 vs. AUS 57.
With a recovery session in the lake, a good dinner and sleep and the teams were all amped and ready to race again on Sunday morning. The first moto was tough the girls went down in that good old first corner letting the Australians take that win. The boys also had a bit of trouble all staying on their bikes but their points were still keeping NZ just in front.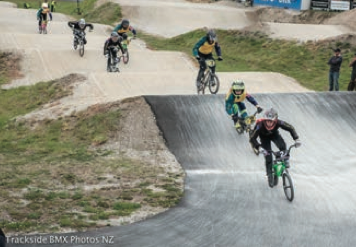 The last motos were outstanding the teams wanted these wins and they wanted them bad.
The final points were Boys NZ 95 Aust 100 | Girls NZ 90 Aust 105.
Two teams' two wins, the riders couldn't be happier, they rode outstandingly with confidence and commitment. The test event was an awesome experience for everyone involved, friendships were made and life long memories , both the NZ and Australian teams rode with pride and sportsmanship, it was fair hard racing by exceptional teams of BMX athletes. The teams now travel to Nerang Australia in early January as development teams to take part in two rounds of the Australian Champbikx Series and the Nerang Internationals.
– Susan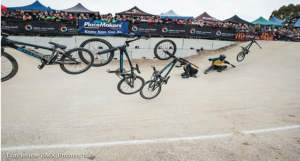 McOnie – Test Team Manager