A Hamilton teenager's BMX dreams have received a much-needed financial boost.
Jessie Smith was recently named Rothbury Hamilton Regional Scholarship winner and received $5000 to help her achieve her dream of representing New Zealand in BMX racing at the 2020 Olympics.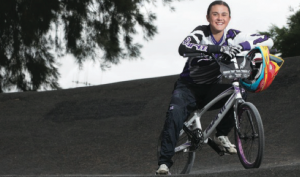 The 14-year-old was one of 227 applicants who applied for the scholarship and will use the award to get her to the UCI BMX World Championships in Columbia next year.
Jessie has been to five world championships and has podiumed each time.
This year, in Belgium, she was ranked the world number one in her age group.
Her other career highlights include placing second three times and first twice at the UCI BMX World Championships; captaining the BMX New Zealand Scholarship Girls junior test team twice in 2012; captaining the BMX New Zealand senior female test team in 2013 and 2014; and being invited to join the Waikato super stars, a talent squad in 2014.
She is also a part of Sarah Walker's BMX Team, with Sarah as her mentor.
General manager at Rothbury Life, Jon O'Connor, said Jessie had demonstrated a huge amount of passion, determination and commitment to her sport.
"We wish her all the best for the future and look forward to one day watching her compete for New Zealand at the 2020 Olympics," he said.
Jessie said her passion for BMX began in 2005, and at age six, she had to have an emergency splenectomy after crashing into another rider, but not even this trip to the hospital could stop her racing.
"It does say a lot about BMX. If you love a sport, that stuff doesn't hinder you," she said.
BMX is a sport that does not receive any Government funding and Jessie hopes that is something that changes over time.
"Any other sport can get sponsorship, but in New Zealand it's hard to get recognised," she said. "I'm so thrilled to be awarded a Rothbury Hamilton Regional Scholarship. The money received will be put towards my next step, which involves extensive specialised training and the opportunity to work alongside other riders that already have programmes up and running."
Stuff