North Canterbury BMX Club proudly hosted the 2016 BMXNZ South Island Titles on the 9th/10th January 2016.

North Canterbury BMX Club was formally the Rangiora BMX Club. We changed our name nearly a year ago, to better reflex the wider community that we draw our riders from. We are still racing at the same place
– Ashley Picnic Grounds, Milton Avenue, Rangiora.
The club is excited to be the hosts of the South Island Titles. We previously held the South Island Titles in 2013 and were recognized at the North Canterbury Sports Awards that year as winners of the Outstanding Event of the Year. With most of the committee the same, the event aimed to be even better this time round.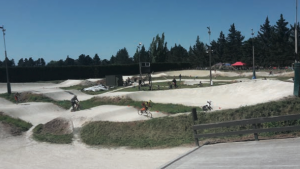 The club committee worked hard at ensuring both the track and facilities were at their best. Only a few modifications were made to the track so it will ride smoothly. As any club that has hosted a major event knows – it requires many hours of labour to keep the track up to major event level. Special thanks should go to our Track Manager – Jack Daniels and to all of our volunteers who regularly turn up to help him at training nights and working bees.
We would also like to especially thank The Southern Trust for providing funding to help us put on this event.