2015 was certainly a long busy year to say the least. With 2014 being my first full year racing on the UCI BMX Supercross (SX) World Cup circuit and the start of the Olympic Qualifying process, 2015 was certainly a big year to make a push past personal boundaries and achievements that I had set previously. 2015 also was the start of where my training was flipped upside down taking a different approach and mindset to the application of training when I shipped myself off to Sydney at the end of January to train with the world renowned BMX coach Sean Dwight.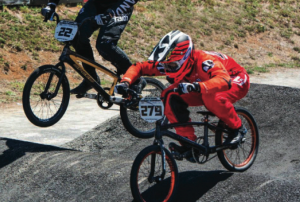 With this in play it certainly made my first two races (Manchester/Papendal SX) of the year certainly difficult. In a sense that you become so accustom to your personal pre race training routines and approach to races that when that completely changes it certainly throws you off big time in the mind. To which Manchester only saw me make it out of pre-qualifying and into motos and Papendal saw me crash out over jump one in the quarters.
After these two rounds of disappointment I was back to Chua Vista, California for an 8week Pre World Champs training racing block at the Olympic Training Centre and on the USA BMX Pro National series.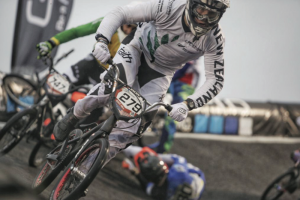 This block of training saw me grow leaps and bounds, with training alongside the current world champion Sam Willoughby who also trains under the supervision of Sean Dwight. It also saw me end up on my first Pro podium in Rockford, Illinios with a 2nd behind Sam. This then lead into a massive racing/traveling block with World Champs, Three World Cups as well as the Olympic test event all in one trip. The first two races where big ones for myself, with World Champs being held in Belgium and a World Cup in Sweden. Worlds saw me crack my time trail block and out of 100+ Elite males I ended up qualifying 8th in the time trail placing me into the super time trial.
Racing the next day certainly threw a curve ball for the entire field! With torrential wind and rain UCI made a panic call to not run us of the 8 Meter start hill that we had all been riding on and give us 15 minutes to learn a new first straight and race off the amateur five meter ramp. This certainly threw a lot of riders off which pushed a lot of riders out as qualification motos were also cut from points over three laps to one lap with the top four to qualify. This didn't really change a lot for myself, In hindsight I was rather stoked seeing it threw everyone into the business end of racing.
As I ended up qualifying a breeze through my first three laps where I saw myself in the semi to which I had an amazing gate to where I run out luck and ripped my foot out of pedal half way done the hill.
I also did this in my quarter but made up for it. But as I found out doing so in the World Championship semi final is a rather difficult task with that caliber of field ending my race day with a 11th place finish overall. Following the disappointment of coming so close to making the final at world champs I managed to channel that into motivation where I successfully battled my way into my first SX World Cup final in Sweden.
Again this was not a smooth day crashing in my final moto as well as in the final over the first jump due to wind and colliding with other riders. As much as I was super happy to finally break into the top 8 at a World Cup it was certainly the most painful post race showers I have ever taken!
After a week of recovery letting my skin grow back it was another quick turn around shooting from Northern Europe down to Argentina via Canada for a UCI round then onto Rockhill, USA where we had two weeks down time before the final World Cup of the season. Sadly with all the travel I spent my entire time in Argentina batting the flu, which I ended up racing at 90%.
This was a big task to do but I manage to scrap a few extra Olympic points making it to the quarters. With two weeks up the sleeve in Rockhill it was into full recovery mode, which ended up on a course of antibiotics to shake what I had and only two track sessions later over two weeks it was into racing.
Surprisingly the body found a new lease of life finding myself ending up in another World Cup semi final where I didn't quite play my cards right in the lane I had seeing myself getting spat out and fighting from the rear after the first turn ending my day. Certainly frustrating to say the least but that's the sport of BMX as we all know.
The BMX Olympic test event… These 5 words certainly brought a lot media hype for all of BMX and cycling worldwide. Without getting into too much detail of the circus event it was, with the rider stand off in regards to the track conditions. Rio is certainly going to a mad house the time the Olympics rolls around. A year out and the place is already buzzing with the crazy Olympic vibe everywhere. It was certainly a life experienced ticked off the list without the added pressure of the biggest event of any athlete's lives added into the mix.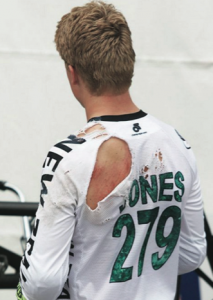 As for the track, as a fellow full time racer on the World Cup series put it, "you risk serious injury or even death every time you set foot on a Supercross style track". So going to Rio where all of the jumps are on the larger side of the scale of tracks but have zero margin for error, it means one mistake you'll be crashing it's certainly not bringing out the best in the sport we all love.
With the entire world watching next year in 2016 as riders, we want to show case the best of the sport that provides the best racing possible meaning the better athletes on the day surface to the top. With this in mind the best 'Race Tracks' are sometimes the most simplest of designs.
All in all 2015 certainly came with a lot of lessons learnt with many positives and new achievements to reflect on. But certainly nice to come back home for some normality for a few weeks after 10 months on the road in some very foreign places! As for now it's back to the drawing board as well as a few local races such as Continental Champs thrown in before the big year of 2016 starts! Hope to see you all track side!
Can follow more of my journey over on facebook.com/tjones or instagram/twitter @tjones279