THE road to Rio will start in Bathurst this week for some of Australia's top BMX competitors.
The 2016 BMX National Championships swing into top gear today at the newest jewel in Bathurst's cycling crown – the $1.5 million BMX track built as part of the new Bathurst Bike Park.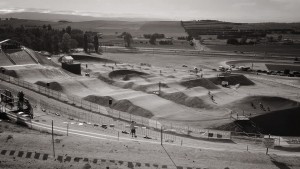 And with around 10,000 competitors and supporters expected in town this week, Bathurst Regional Council's investment should pay itself off in no time.
The Bathurst track is one of just two world-clsass BMX circuits in Australia and with places on this year's Rio Olympics team up for grabs, the competition will be of a standard never before seen in our region.
Built into the side of a steep hill near the Vale Road, the track is a very challenging circuit because of the high speeds riders will be able to maintain as they work their way through the course.
But the developers say a lot of thought has gone into the track's construction to offer options to cater for the different abilities of the riders taking it on.
The decision to build the track is another demonstration not only of Bathurst Regional Council's determination to enhance the region's sporting infrastructure, but its determination to encourage regional growth.
Sports tourism is becoming ever more important to the strength of the Bathurst economy.
While the Bathurst 1000 remains the biggest money spinner, events such as the Bathurst 12 Hour, Gold Crown, Penrith Panthers clash and now the BMX nationals ensure a flow of money into the region throughout the year.
Indeed, BMX Australia president Barry Knight is predicting this week's championships will result in a $10 million economic windfall for the region.
As they say, sometimes you have to spend money to make money.
– westernadvocate.com.au