Friday the 3rd of April was the day 30 boys and 14 girls with nerves at their peak headed to the pits to start riding for a valued spot in the 2015 Mighty 11 Test Team to race in Australia in June.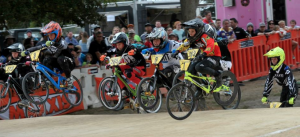 The racing was epic and down to the wire with team spots up for grabs leading into the final for both the boys and the girls. Well raced and fought out finals saw the following team members attain their place in the team, all from the North Island this time round:
Boys
Finn Currie – Captain (North Harbour)
Lachlan Stevens-McNab (Rotorua)
Rico Bearman (Waitakere)
Cooper Merito (Te Awamutu)
Girls
Jenna Hastings – Captain (Rotorua)
Zoe Hartwell (Papakura)
Ella Daniel (Te Awamutu)
Makayla Ranken (Papakura)

Now the hard work starts with Clive's training schedule to follow and meeting up for 3 weekends of training leading up to our departure to Aussie on the 29th May.
It's an amazing trip and opportunity for these riders to race in a team challenge and live with Aussie families for the duration of our stay. This year we head back to Lake Macquarie and looking forward to catching up with them again. On the way to our racing destination, we will also be visiting Penrith and Macarthur.
As happens each year, this will be the beginning of new life long bonds not only with our neighbours across the ditch but also within our team, parents and supporters.
We will take the two trophies back across the ditch for a 10 day holiday – no pressure riders!!
Sharon Cheesman
Manager – Mighty 11 Test Team