With hundreds of riders competing for national honours at the BMX national champs, Bay of Plenty athletes were among the best.
The First Windows & Doors BMXNZ National Championships were hosted by East City BMX Club in Auckland on Saturday and Sunday, attracting nearly 700 riders – and two Tauranga BMX Club riders won national titles.
Bruno Nemedi placed first in the cruiser 8-10 male cruiser class and second in the 10-year-old boys class, while Whakatāne-based Jaydah-Lilly Lees won the girls 13 title, after recovering from a crash in the final heat.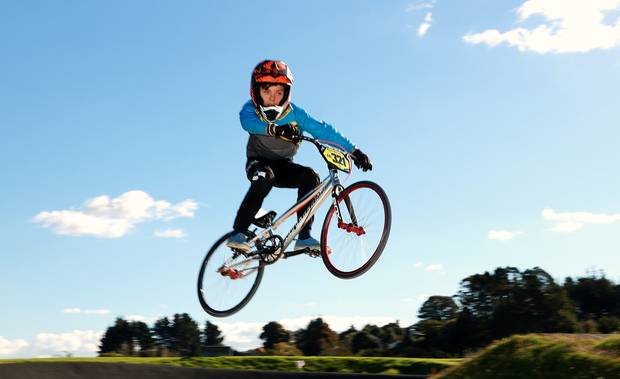 Tauranga BMX Club vice-president Manawa Mason says the club was represented by 27 riders competing in events in age groups ranging from six to 60.
Other Tauranga riders to secure podium placings included Daniel Mason, who won third in the 10 boys section and second in the 8-10 male cruiser final, Hannah Mason was third in the 12-year-old girls event, Tauranga's Abbey Simcock placed third in the over 15 section while senior rider Troy Greaves placed second in the over-50 cruiser event and Pete Roden was third in the over-50 male class.
Mason says eight other riders from the club fnished in the top-eight of their divisions and Hannah was also selected, with Rotorua's Kate Hastings, for the New Zealand Mighty 11s team to take on Australia in June.
"The nationals is the pinnacle event for all our riders and the level of training and focus over the past few months shown by all riders was exceptional," Mason says.
"Countless hours training at our track on Cambridge Rd, travelling around the region and trainings at the nationals track at East City BMX Club in Auckland, has been a display of their commitment and strong desire to succeed. This is evident in the results our club riders have achieved."
Rotorua BMX Club riders were also on the podium, with Dion Newth taking the 45-49 cruiser class and Dave Mohi wining the same age group in 20-inch event. Rotorua's Caitlin Flavell placed third in the supernats female 12-14 event.
East City BMX Club spokesman John Cocker says he is impressed with what he saw on the track.
"We had three days of fine weather and there were very few accidents – that is probably a reflection of the high skill level of the riders.
"The sport has evolved in the last 10 to 15 years, tracks are a lot more technical and there is a lot less pedalling required.
"The start hill is modelled is on the one used at he world champs in 2013 in Auckland and it is probably steeper than most start hills around the country. Most people, certainly from the North Island, would have raced on the track before.
"The event gives riders an idea of performing under pressure up against the best riders in the county. It also gives them an indication of the kind of preparation they need to do to go on to things like world championships."
– Bay of Plenty Times