Three-time world BMX Champion Tahlia Hansen's dreams of competing in next year's Olympics are all but over.
The 17-year-old from Rangiora was given the worst news of her short career last week when MRI scans revealed three bulging discs down her spine, one of which being "quite severe" to the point that it was beginning to touch a nerve.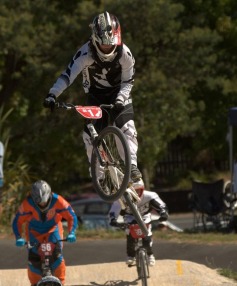 As a result she has been advised to take three to six months off racing and training, effectively ruling her out of the world championships in July and ruining any chance of qualifying for Rio.
Hansen said she has had a sore back since 2010, and thinks the injury may have been caused by a crash on the bike.
"Ever since then it's never really felt right, it always feels sore then it goes alright and then sore again."
She said getting the news was "pretty gutting", but was taking the long-term view.
"Taking this time off will definitely help a lot. It's always going to be around, I'm always going to have a weakness, but taking the time off and really focusing on getting it stronger will lessen the chance of it reappearing."
Despite the doctor's advice, Hansen may still ride in the BMX Nationals in Christchurch on April 3.
"I talked to the doctor who said I could have the next couple of weeks off and then see how I feel – if it's not too sore then to race and then after nationals start the rehab process."
Even if she was to compete, Hansen says she won't be worrying about qualifying for the worlds.
Hansen says her focus now turns to recovering for the elite competition next year, and the 2020 Olympics in Tokyo.
SAM SHERWOOD
– The Press