Afternoon rain showers forced a postponement of the Rotorua Pump Track Challenge presented by RockShox, although seeding runs were completed and put the four-time Queen of the Pump Track, Jill Kintner, on top.
Some 11 women and 30 men participated in the seeding runs, racing the track solo before Friday's mano-a-mano-style competition.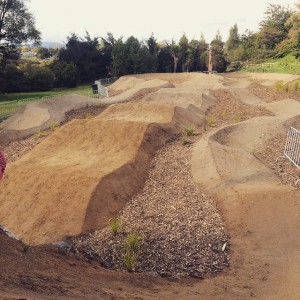 The Women's Pump Track was considered one of the best lineups Crankworx has ever seen for women Kintner (USA) looking to recapture her place atop the podium after losing it to Caroline Buchanan. She faces Sarah Walker (NZL), 2012 Olympic silver medalist in BMX, Anneke Beerten (NED), BMX and 4Cross World Champion, and world-class downhill riders like Tracey Hannah (AUS), Emilie Siegenthaler (SUI) and Casey Brown (CAN).
Top place finishers for seeding list:

Men
1. Daniel FRANKS
2. Adrien LORON
3. Matt CAMERON
4. Kyle STRAIT
5. Tomas LEMOINE
Women
1. Jill KINTNER
2. Anneke BEERTEN
3. Sarah WALKER
4. Luana OLIVEIRA
Pump Track will run Friday 7 p.m. NZT, 11 p.m. 26th PST, 7 a.m. CET
For more information about all other Crankworx Rotorua events, visit http://www.crankworx.com/rotorua
Watch all the action LIVE at Crankworx.com
Mar. 27 Crankworx Rotorua Downhill presented by iXS (3-5 pm NZT/7-9 pm PST Previous Day/5-7 a.m. CET)
Mar. 27 Crankworx Rotorua Pump Track Challenge presented by RockShox Friday 7 p.m. NZT, 11 p.m. 26th PST, 7 a.m. CET
Mar. 28 Giant Toa Enduro (4-6 p.m. NZT/8-10 p.m. PST Previous Day/4-6 a.m. CET)
Mar. 29 Crankworx Rotorua Slopestyle (12:30-3 p.m. NZ/4:30-7 pm PST Previous Day/12:30-3 a.m. CET)