Those that are contemplating attending the UCI BMX World Championships in Belgium, the UCI has issued a provisional schedule for the event.
Please use the below link as part of your planning for attending the event.
2015 UCI BMX World Championships – Heusden-Zolder (BEL)
As further information becomes available it will be forwarded to Club and Region contacts to onsend.
If you are contemplating attending the World Championships in 2015 – send an email to Norm McCann with the subject line – WORLDS 2015 DATABASE – PLEASE ADD ME.
Thank you and kind regards
Norm McCann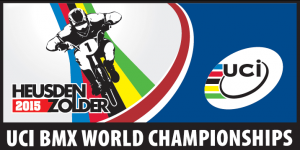 Official 2015 Worlds Website: http://www.bmxzolder.be/