Anyone who's dared to dream big knows you can't take your eyes off the goal until it's a reality.
That's how I'm feeling right now. After a number of presentations, a petition and a lot of phone calls, the Hurunui District Council in North Canterbury has agreed to allow an entry level competition track to be built on vacant land in the Amberley domain. The site also boarders the local school and has many children excited. A Club is being formed and our long term goal is to get the track onto the racing circuit. From the start there has been widespread support for the track proposal and I am pleased to say this has been the case throughout my intense meetings!
Now that we have the land, my eyes are turning to the logistics of building a track. Materials, measurements, design, labour and funding to name a few! The response from local and businesses district wide has been awesome and just this week Allied Concrete and Bartlett Concrete Placing agreed to support the project. But it's the expertise, enthusiasm and 'can-do' attitude of John Shepherd, Sam Thorn, Stan Hauraki-Tuma and Mikal Menzies that will make this Project a reality. They have the gear, the skill, but most of all the passion to help build a track that will benefit young people for generations to come.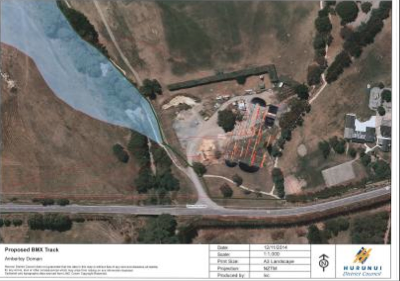 I now have the task of securing over 100-thousand dollars in funding. I know this is achievable because the buy in from the local community has got us this far. If you would like to contribute in any way, small or large, then we as a team would be very grateful. We started with nothing but will finish with a track that will not only help the sport of BMX racing grow but the ultimate for me, connecting the community with kids through sport.
Look out for our Facebook page to follow and donate to the project.
Thank you!
Julia McLean