Seasoned rider Marc Willers was the best of the Kiwis today and for the season in the UCI BMX Supercross World Cup.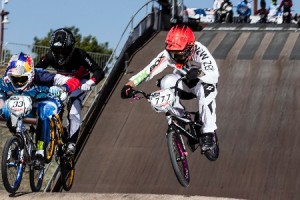 The 29 year old missed out by one spot on a place in the final in the last round of competition at the US Olympic training centre in Chula Vista today.
Willers, who lives nearby in southern California, has finished 16thin the rankings for the season for all Supercross competition.
He was the only New Zealand rider to progress to the semifinals stage today, finishing third in his morning qualifying motos after placing fifth, third and second in his three runs. He was fourth to grab the final spot to advance from his quarterfinal, drawing an outside lane draw in the semifinal.
Willers fought for a competitive position into the first corner but was forced wide and as a result just missed out on the last place into the final.
He finished the Supercross season making his one grand final in the opening round in Manchester, with semifinals appearances at Berlin and today in Chula Vista.
BikeNZ national BMX coach Ryan Hollows said Willers showed glimpses of returning to his best form.
"It has probably been 18 months since we have seen Marc in top form but he was definitely much better this week," Hollows said. "He believes he has a new lease on life and has made some changes to his riding and training programmes which are starting to show benefit.
"He was very unlucky not to make the final here but it's tough when you draw the outside gates."
Three BikeNZ high performance squad riders progressed to the elimination rounds today with Jones brought down in his second run which cost him any chance to progress. Teammate Matt Cameron, so impressive in winning all three qualifiers yesterday, could not replicate that form and did not advance while US based Gisborne rider Nick Fox also missed out after being caught in a crash in his final moto.
"Trent was brought down from behind and fell very heavily with some damage. He was tough to even race the final moto, but that clearly cost him," said Hollows.
"Matt has had limited exposure at the top level and the occasion probably got to him. Yesterday he was calm, focussed and very clean but he could not replicate that especially out of the gate when he lined up against the best in the world."
Hollows said the squad has trained well but had been on the wrong end of the injury count, with Willers fracturing his arm at Berlin, Sarah Walker doing the same this weekend, while Kurt Pickard had not recovered sufficiently from his injuries to make this trip and Jones was hampered by a crash also.
"We have been battling crashes and injuries in the back end of the season. Their training has been good and all indications are they've been in strong form.
"They will now take a break before we knuckle down for some Olympic qualifying events in New Zealand in October and December and then look forward to 2015 which is the all-important qualifying year.
"If we can stay healthy and out of harm's way, then I am confident we have the right riders who are training well and can perform to the highest levels."
The team return home this week with Walker to have further examinations to determine if she will require surgery on her fractured radius bone.
BikeNZ.org.nz
Caption: Marc Willers in action at the UCI BMX Supercross World Cup final in Chula Vista, California. Credit: Craig Dutton.