It turns out New Zealand's latest female world champion, Jessie Smith, is not only outstanding on a bike, she's also a dab hand with a paint brush.
When she's not on board her BMX (which is a good chunk of the time), the 18-year-old can be found painting and water-blasting houses around the Waikato, in her first job out of high school.
It's work she loves, she says, where she's constantly learning. But, more importantly, it helps Smith to pay her way around the globe as she breaks into the world elite circuit – and gives her something to focus on away from the race track.
Having just arrived home from three months racing in Europe, with the junior elite BMX world champion's crown, Smith would normally be straight back on the tools.
But her big-hearted boss, Sam Cotton, has given the world champ time to recuperate – and maybe reflect on her glory, in a year that's been filled with important milestones.
It helps that Cotton is the mum of a brood of BMX racers, who understands just what being at the pinnacle of the sport demands. She recognises that Smith – who's been travelling the world racing bikes since she was eight – needs a part-time job to help pay her way, as a self-funded athlete.
"The financial strain is tough," Smith says. "So to have a boss who allows me to have my early morning and afternoon trainings, who, if I'm overtired, says 'take the day off' – I couldn't ask for a better job."
No doubt she's the same "hard-working, honest and humble Kiwi girl" – as her coach Matt Cameron paints her – "who gets stuck in and does what she can to better herself day-in, day-out", whether she's up a ladder or on two wheels. But there's definitely something special about this young rider, who's already tyre-to-tyre with the best women in the world.
Smith could be asking for a little more leave from work over the next 12 months, as she becomes a true contender for the 2020 Tokyo Olympics.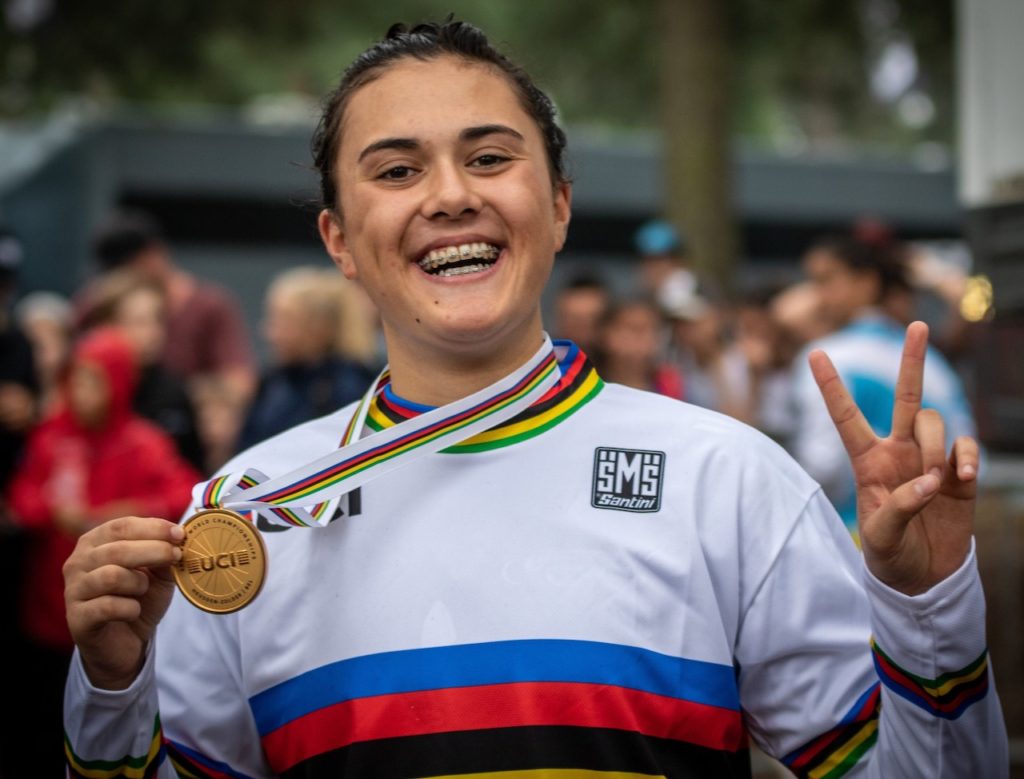 Her victory at the BMX world championships – where she won every race she lined up in, in the junior elite class – has also helped give New Zealand a decent boost towards qualifying for Tokyo.
Add to that a fourth placing at the World Cup Supercross round in Paris last month – in a field peppered with elite world champions and Olympians – and Smith has earned her country 285 valuable points.
In comparison, 2012 Olympic silver medallist Sarah Walker has earned just 70 points since June, and New Zealand's current top-ranked elite woman, Rebecca Petch, has picked up 100. Neither rider got further than the quarterfinal stage in the women's elite event at the worlds.
Smith's success has helped boost New Zealand to No. 5 in the world. If they hold on to that placing until June next year, New Zealand will have two women riders at the Tokyo Olympics. Drop any further below that, and they'll have just one.
And, for the first time, Smith has allowed herself to think she may be one of those riders lining up in Tokyo.
Smith, who grew up in Gisborne in a hockey-mad family, has been a world champion three times before – in the 14, 15 and 16-year-old age groups – but the junior elite world title is a significant step up.
On a rain-slicked track in Heusden-Zolder, Smith overtook Argentina's Agustina Cavalli on the last jump of the final, to become the first New Zealander to ever claim the junior women's world title. (Walker was the women's elite world champion 10 years ago).
As Smith raced, the Olympics were far from her mind.
"I wasn't thinking of Olympic points during the race at all, and it wasn't until afterwards people were saying 'Hey look you've done this and scored New Zealand really good points'," she says.
"Before this race I wasn't even expecting to be part of these Olympics. I thought 'there's no way I will be going, I'm still too young'. But now it's very much on my mind."
It would be something of a fairy tale if Smith got to race in Tokyo alongside Walker – her hero and mentor, and the woman who's helped make Smith's dream come true.
Walker first recognised Smith's talent seven years ago.
"I'd followed Sarah for most of my BMX career. She's incredible," Smith says. "Then, in 2012, at a North Island event, she approached me and said 'You're pretty talented, I'd love to support you and help give you a step up into the elite rankings'," Smith says.
Walker then helped to sponsor Smith with bikes and race gear, and mentored her in her training. But one of the most valuable things she's given Smith has been her wisdom.
"One thing that has really stuck with me is to look around you, take it all in and enjoy it," Smith says. "The sport is gruelling and often you're doing the same stuff every week. But if you can take where you've come from and just look around at where you are, it's amazing.
"That's exactly what I did at the worlds in the final, I had a look around at all my supporters and family, and I enjoyed the moment.
"I'm quite a critical thinker when it comes to my sport and I take my training quite seriously. If I get caught up in it all, I go back and think 'You're doing this because you love it. Enjoy the challenges that you face and have fun with it'."
Matt Cameron – a former Kiwi professional rider who's now head coach of the BMX national performance hub – says it's not just Smith's success at the world championships that's put her in the frame for Tokyo, but her performances in World Cup races this year, where the field of riders is open.
After three World Cup Supercross events so far this season, she's the top ranked Kiwi in 14th – ahead of Walker, 16th, and Palmer, 27th.
"Obviously we're still exactly 12 months out from the Games, so to jump into a position like this, she's certainly put her hand up to say, 'I am here!'," says Cameron.
So what sets Smith apart from her peers? Her technical skills on the bike, and an "outstanding" ability to read a race as it's happening – under pressure – which belies her age, Cameron explains.
"Not many [young women riders] have the skill-set of a guy, and can ride like a guy, in the sport at the moment. Those who can are very successful around the track, which is Jessie's strength – she's smooth and generates a lot of speed where you're unable to pedal," he says.
Smith spent the last three months living and racing in Europe, after Walker helped connect her with the new Dutch professional team TVE Sport to compete in World Cup races. The team includes Dutch sisters Laura and Merel Smulders; Laura is currently ranked #1 in the world and Smith lived with her in the Netherlands.
"She's the most decorated BMX rider in my lifetime," says Smith. "So staying with her was crazy.
"I was just so privileged and so grateful to turn up to a race and have a manager and a mechanic – it takes all the stress and worries away, and you can simply race to your best ability.
"It's expanded my experience and my knowledge of the sport, and got me looking at it from another perspective of how other riders live, train and race."
Smith was still finding her feet in the quarterfinals of the first two World Cup events, but in Paris last month she made her first semi-final and final – finishing fourth, one place behind the new women's elite world champion, American Alise Willoughby.
"Until then, I didn't believe in myself at all. I didn't think I could make a World Cup final," Smith admits. "So I let out a huge scream in the quarterfinals when I made it through. It was a bit embarrassing."
Next week, Smith is off to race in China, then has two more World Cup Supercross events in the US and Argentina next month, before the Olympic test event in Tokyo.
Travelling the world with a bike is now second nature to Smith, who made her first trip to a world championship in Adelaide at the age of eight.
"It's where I've grown so much," she says. "I enjoy the history and the culture behind travelling – seeing the world and how other people live. Being Maori, I really respect other cultures."
While painting is helping Smith to realise her sporting dream, she sees another career on the horizon. With her love of the outdoors, she would like to study outdoor education and become an instructor – another way, she says, to continue to see the world.
"I'm looking forward to that part of my life, after BMX," he says. "But hopefully it's a bit of a way down the track yet."
– newsroom.co.nz – Suzanne McFadden
Suzanne McFadden is the editor of LockerRoom, dedicated to women's sport.