A world junior title is the biggest win of BMX rider Jessie Smith's career.
But the 18-year-old is hungry for more success and is making a charge for the 2020 Olympic Games in Tokyo.
Smith, who was raised in Gisborne, won the junior women's final at the BMX world championships in Belgium this week, overtaking Argentina's Agustina Cavalli on the home stretch.
She is the first New Zealand BMX rider to win the junior women's world title, following in the footsteps of Papakura's Maynard Peel, who won the junior men's honours in 2016, and Smith's mentor Sarah Walker, who won the elite world title in 2009.
"The Olympic dream now is very much in my head," Smith said.
"It is for sure a possibility now, so I am looking forward to what next year brings when I move to the elite ranks."
Smith lives in Hamilton but has lately been based in the Netherlands.
She rated the junior title as her best win, because she was racing at championship level, rather than as an amateur (she had won world age-group titles for cyclists aged 14, 15 and 16).
Smith was to the fore on a rain-affected final day at Zolder-Heusden.
She was unbeaten throughout the day, winning all three qualifiers, the quarterfinal, semifinal and final.
"The corners were slippery but you had to take it a bit easier," she said.
"I didn't really change my approach, though."
At times in the final she had to push it.
"Right before the gate call started I looked at the first jump and had to remind myself this was the final.
"At that point I knew that I had to put everything on the line and give it my all."
Smith said she stayed pretty calm through the race.
She could see another rider slightly ahead of her as she headed down a hill.
"Not to worry, as I knew I had three more straights to catch up."
She moved into second and, approaching the last straight, thought "this is it".
"I had never pumped the first jump on the last straight but as soon as I did and watched the Argentine girl next to me jump, out of the corner of my eye, I knew I was going to pass her and it wasn't until the last jump that I (secured the win) and crossed that finish line with the biggest smile on my face."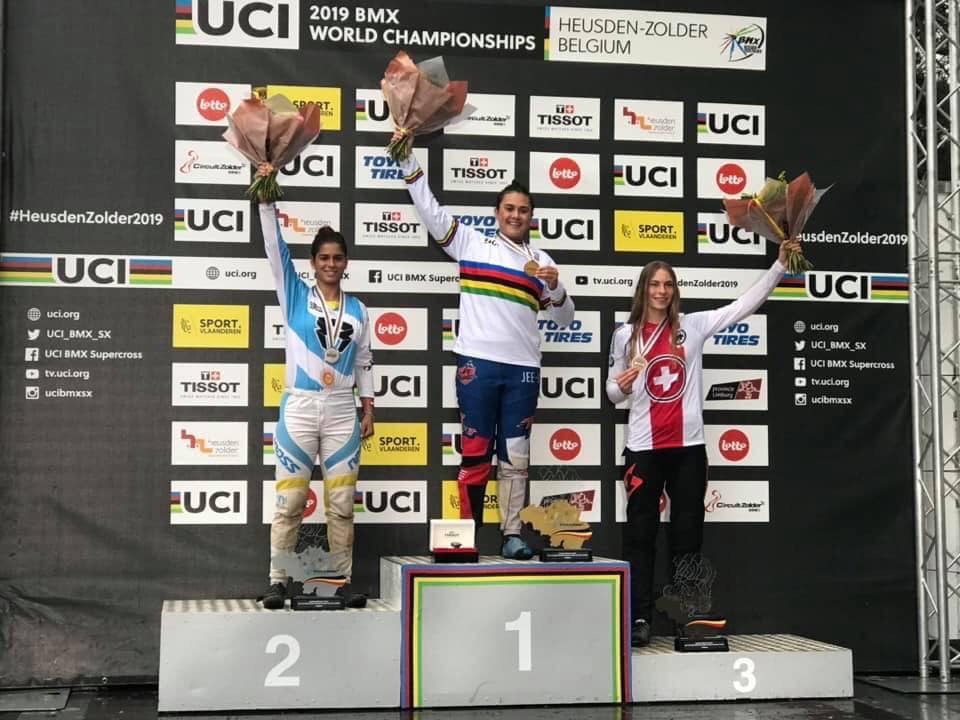 Smith said it was special to have her mother, sister, best friend and other people who support her there in Belgium.
"Winning has given me that extra confidence boost to tell myself I can do this and I can compete against the best women in the world, not just race them.
"It builds a huge amount of confidence heading into my next races coming up this month, as well as in September and early October."
She will race in China this month, then head to the United States and Argentina for the last world cup meets of the season and on to Tokyo for a pre-Olympics test event.
Smith said she would be one of the youngest riders there and she was excited about joining the elite women ranks next year.
New Zealand hopes to qualify for two women's BMX slots at the Olympics, which would likely allow Smith to compete alongside Walker, who won a silver medal at the London 2012 Games.
If it doesn't work out this time, Smith could be one to watch in Paris in 2024.
– Gisborne Herald – Grant Miller