Teenager Jessie Smith is on top of the world after claiming the junior women's UCI BMX World Championship title in Belgium.
The 18-year-old from Hamilton passed Argentina's Agustina Cavalli in the final 15m to claim the title on a rain-affected final day at Zolder-Heusden.
Smith is the first New Zealand BMX rider to win the junior women's world title, following on from Papakura's Maynard Peel who won the junior men's honours in 2016, and in the footsteps of her mentor Sarah Walker, who won the elite world title in 2009.
Ten years on from that victory, it was not to be the fairytale for Walker, who exited in the quarterfinals along with teammate Rebecca Petch on a day when the weather dominated.
Smith's junior elite FIRST New Zealand teammate Baylee Luttrell, the Danish-based Hamilton rider, was injured in a final practice yesterday and withdrew after warm-up today. The Cambridge club pair of Rico D'Anvers and Tasman Wakelin made it through the qualifying motos before exiting in the semifinals and quarterfinals respectively.
It proved a crazy week for organisers who called off racing for three hours on Friday (NZ time) after temperatures soared to 43C deg, but battled continual rain throughout the elite championship day. It caused ponding around the track and made the hard-packed corners slippery.
Smith was unbeaten throughout the day, winning all three qualifying motos, the quarterfinal, semifinal and final where she trailed the Argentinian rider until a brilliant final straightaway effort earned victory.
Throughout the day the race-craft from Smith, who has been based in the Netherlands with Dutch stars Lauren and Merel Smulders, proved the class of the competition.
"Honestly I just can't believe it. It's crazy. I had a plan to go to Europe. It was a bit of a gamble because I was only selected for the worlds a month ago. I am so happy it paid off," said Smith.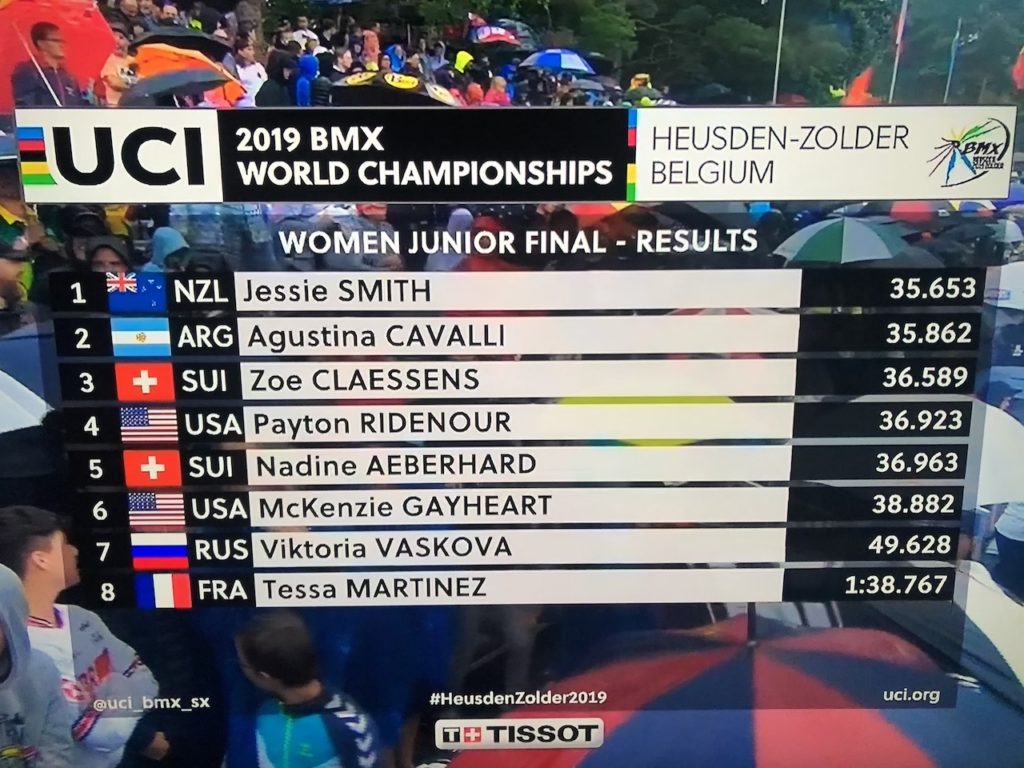 "The corners were slippery but you had to take it a bit easier. I didn't really change my approach though. I rely on my track speed a lot. Sometimes I have jumped the first big jump but coming in to today knowing my track speed was quite good, I relied on that and managed a PB."
She tried to relax as much as possible going into her final.
'I just chucked my headphones on and listened to some music I liked, got really happy and amped up. I didn't have the best gate but I managed to stay calm and composed and went from there."
Smith said the opportunity to train and race on the Dutch professional team with the Smulders sisters and Walker has been a key.
"Being in TVE Sport has made me a better rider and a better person. Training with two of the best riders in the world has expanded my knowledge so much. Their help and support have been amazing.
"Sarah has helped me so, so much and I really do owe a lot to her for her support and encouragement over the years. I am gutted for her here but I am sure she will be back."
The season is far from over for Smith who returns home this week before heading to China for a C1 Olympic qualifier, the final two rounds of the UCI Supercross World Cup in USA and Argentina, and then back to her Dutch base for training and on to the Olympic test event in Tokyo.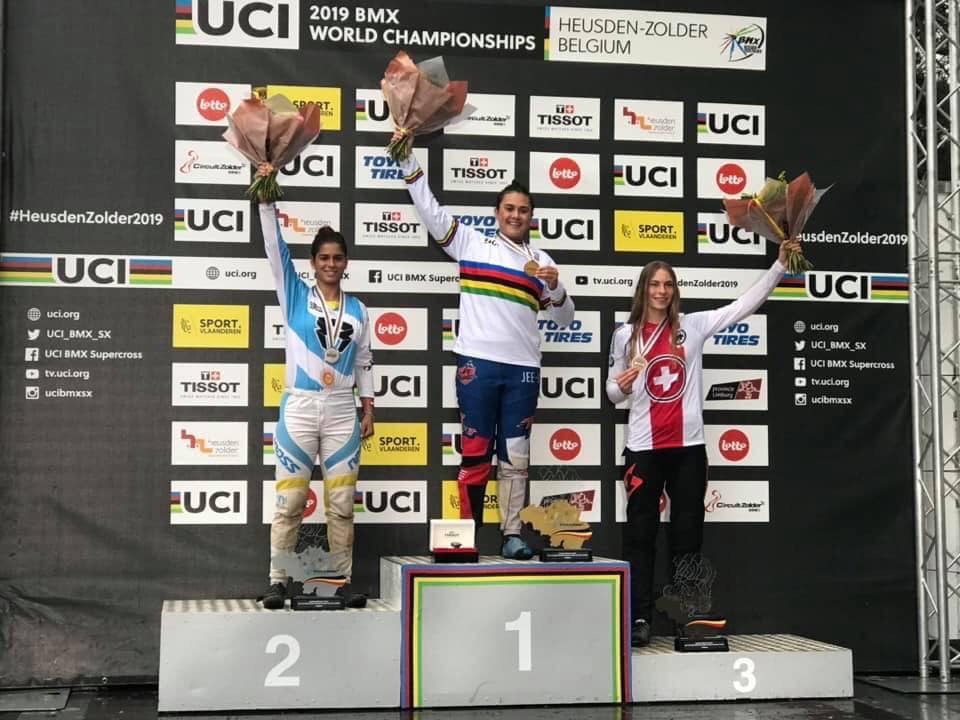 She moves to the elite ranks at the end of this season and her success along with current high ranking in the Supercross World Cup has sparked her Tokyo Olympics dream.
"The Olympic dream now is very much in my head. It is for sure a possibility now so I am looking forward to what next year brings when I move to the elite ranks."
Walker was disappointed she did not go further in the competition, with her second heat moto victory the high-point.
"I managed to get out of the start on that second moto to win against the eventual third placegetter. But that was the only race I got to really go for it. It was gutting," said Walker.
Petch, from the Te Awamutu club, was the fourth and final qualifier from her moto group with two third placings and a fourth but drew Walker's heat in the quarterfinal, and was blocked going wide on the first turn. From there she could not make up enough ground.
D'Anvers qualified top in his group with two wins and a third in the motos. The Waikato rider went through in fourth place in his quarterfinal but was taken out by a fallen rider as he looked to make ground from a sluggish start in the semifinal.
His fellow Subway national performance hub rider Wakelin qualified fourth in his moto group but was washed out on a slippery corner in his quarterfinal.
Veteran Twan van Gendt claimed the men's rainbow jersey while American Alise Willoughby won for a second time in the elite women.
FIRST New Zealand results:
Quarterfinals:
Elite women
Heat 2: Saya Sakakibara (AUS) 1, Judy Baauw (NED) 2, Camille Maire (FRA) 3. Also: Sarah Walker (NZL) 6, Rebecca Petch (NZL) 7.
Junior women
Heat 2: Jessie Smith (NZL) 1, Michaela Hajkova (CZE) 2, Leile Henry (SUI) 3.
Junior men
Heat 1: Nathanael Dieuaide (FRA) 1, Samuel Zapata (COL) 2, Bart van Bemmelen (NED) 3. Also: Tasman Wakelin (NZL) 8.
Heat 4: Huge Marszalek (FRA) 1, Tatyan Tsan (FRA) 2, Niks Rozukalns (LAT) 3, Rico D'Anvers (NZL) 4.
Semifinals:
Junior women
Heat 2: Smith 1, Payton Ridenour (USA) 2, Agustina Cavalli (ARG) 3, Tessa Martinez (FRA) 4.
Junior men
Heat 1: Tsan 1, Ryan Martin (GBR) 2, Ross Cullen (GBR) 3. Also: D'Anvers 7.
Final
Junior women: Smith 1, Cavalli 2, Zoe Claessens (SUI) 3.
Elite women: Elise Willoughby (USA) 1, Laura Smulders (NED) 2, Axelle Etienne (FRA) 3.
Elite men: Twan van Gendt (NED) 1, Niek Kimmann (NED) 2, Sylvain Andre (FRA)