He's back on the bike and he's back on the podium.
But on June 17 last year, the prospects for Tauranga BMX ridder Jakub Bourke being in either of those places were not good.
The Tauranga Boys' College 16-year-old has just placed third in the 17-24-year-old division at the North Island championships on the Mountain Riders track in the Auckland suburb of Pakuranga, only 16 months after a training accident which might have put him out of the sport for good.
Already being labelled "the comeback kid", Jakub's recovery in such a short time is remarkable.
In the middle of June last year, he was training for the world championships in South Carolina. Then, in the pro section of the Tauranga BMX track, while travelling at 55km/h and flying through the air 5m above the ground, Jakub had a horrendous crash.
The head of his femur was crushed. Then the femur went out the back of his hip, taking the sciatic nerve with it.
That's left Jakub with permanent nerve damage. Even now, he has to wear an ankle brace because he can't move his foot properly and he walks with a massive limp.
Jakub was in a wheelchair for a month, then moved on to crutches. He started walking again about a year ago, but life was really all about the bike.
"His whole life was riding," says his mother Tina.
"He started when he was 4 years old and even after the accident he was riding again before he could walk properly."
She says he "crutched up" to the bike to get back into training.
Jakub has always been among the best BMX riders in the country for his age since he was 8 or 9.
But after the accident he was, in the words of his mother "pretty low".
"Most of the doctors said he shouldn't do it again, but nothing was going to stop him."
When was able to walk unassisted again, Jakub was back into serious training all through this past winter. Before the North Island championships, he had taken part in a couple of smaller competitions in the Waikato Tri Series.
"They were over two days and three tracks and Jakub won his age group with 26 races in two days."
That gave him the confidence to be a serious competitor at the North Island championships.
A lot of his recovery can be attributed to the training he is doing with his coaches Tauranga's Ash Rawson and former 2012 BMX Olympian Kurt Pickard, who both visited him while he was injured and supported him back to riding.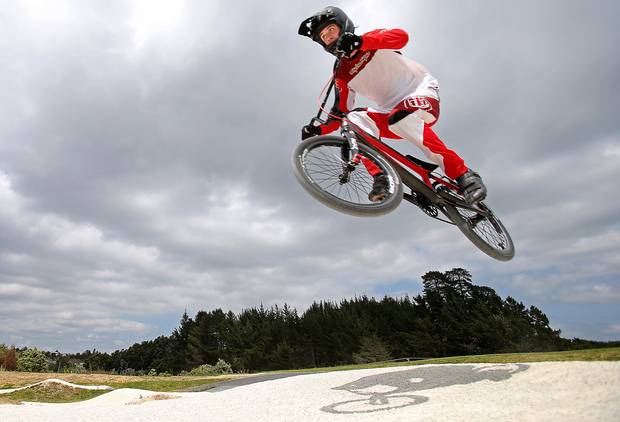 Jakub had six qualifying races over the Saturday and Sunday of Labour Weekend before making the eight-rider final. There, he placed third, was back on the podium and he'd vindicated his decision to continue in a sport where the risks are considerable and the injury rate is high.
"Overcoming fear is the most incredible part," says his mother. "You just have to put yourself out there."
Jakub is looking to finish the school year with the same sort of success he's had on the bike. His accident last year meant Level 1 NCEA studies were badly interrupted.
Nevertheless, he sat some exams and secured some credits. Tauranga Boys' College kept his enrolment open during the recovery time but now he's getting ready for level 2.
But 2019 is where Jakub Bourke is looking ahead to – and the national BMX championships over Easter.