Records tumbled on BMX time trial day at the Aims Games.
In the third year of this sport at the tournament, fastest times were set in three of the four divisions – Year 7 boys and girls, and Year 8 boys.
Local favourite Jaydah-Lily Lees went to the starting plate with huge expectations after beating the Year 7 girls record of 40.74 in practice several times.
She didn't disappoint.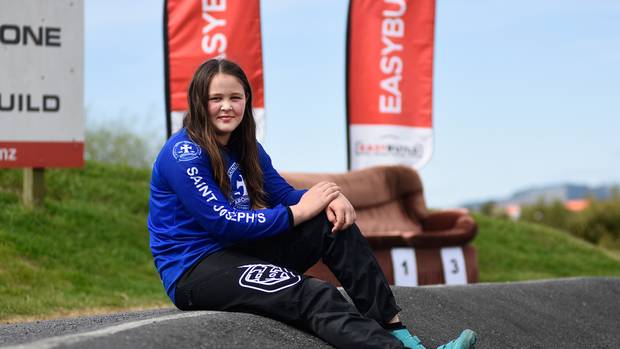 As each rider could choose their own music for the time trial ride, Jaydah-Lily raced down the ramp to the beat of The Greatest by Sia.
It was most appropriate as Jaydah-Lily smashed the previous mark by more than two seconds in her morning run, stopping the digital timer at 38.70s.
Jaydah-Lily, from St Joseph's School in Whakatane admitted afterwards she was more than a little nervous before her run.
"Yes, I was," the 11-year-old said, while her proud dad Hayden Moore stood nearby.
He calls himself the taxi driver, bringing his daughter from Whakatane, which has no BMX track, to the Tauranga park on Cambridge Rd up to three times a week.
A former national BMX biker himself, he's immensely proud of the levels his daughter is reaching, although he confesses he's had to make a few sacrifices.
"My Harley-Davidson fundraising account has been emptied. Now I call it Jaydah's fundraising account."
It's not hard to understand why. The pair of carbon-framed wheels on her bike cost between $1300 and $1500. Then there's the frame which is worth about $2000, with the accessories like a helmet and gloves on top of that.
"And she's still growing," her dad says ruefully.
Hastings Intermediate's Renae Colman–Savage, a teammate of Jaydah in the New Zealand Mighty 11 team, also beat the old record, recording 40.63s.
Records fell in the Year 7 boys and Year 8 boys time trials too.
Australian visitor Lincoln Botfield of North Lakes State College in Brisbane zipped around the track in 38.47s to break the previous mark, set two years ago, by .31 of a second.
And there are new bragging rights in Waikato's Greenough family, after Jack, representing St Peter's College of Cambridge beat his brother Bennett's time set two years ago. Bennett, now in Year 10 at the same school, posted 37.57s in 2016. His little brother beat that with 37.15s, in the morning run, before slashing the mark even further to 36.77 in the afternoon run.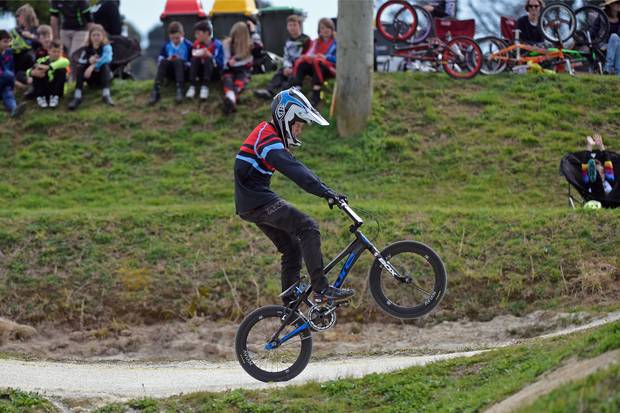 The family's life appears to be dominated by BMX racing. Bennett and Jack's mother Sharon was watching on as her middle child set his record.
She's another parent who admits this is not a cheap sport.
"Eight to 12 hundred for a frame, then the tyres and all the other stuff. And that's times three kids."
Yes, there's daughter Lily, aged 11, who's mad keen on the sport too.
"She'll be here next year," says Sharon, who seems resigned to the fact that all family holidays now revolve around BMX racing.
The Aims Games is the only opportunity for kids of this age to have time trials. The elimination moto racing starts tomorrow where up to eight riders go off the starting gate together and only four progress to the next round until a winner is found.
– Bay of Plenty Times