Having attended trials against the best in their age groups, Rotorua BMX Club riders Zach Paterson, 15, and Will Skipper, 11, have claimed spots in New Zealand BMX teams.
Will has been selected for the New Zealand Mighty 11s team who will go head-to-head with Australia at the North Island BMX Championships held over Labour Weekend in Whangarei.
Zach trialled for and made the New Zealand senior development squad. The New Zealand senior test team will take on the Australian team in Australia sometime in April.
Zach said the development squad was made up of the top two 14-year-old and 15-year-old boys and girls.
"Trials were in Whangarei and we had four moto heats to get points in, dropping your worst placing, and then three finals.
"I came second in the first final, won the second final and then crashed in the last final. I still made it by one point, so that was pretty exciting," he said.
He said he was excited to race against some of the best riders in Australia next year.
"It's always good to change up who you're racing against, I race the same people every weekend here so it's good to clear your head and go race somewhere else.
"It's about testing yourself against others without having to prove anything. They don't know me and I don't know them, we don't know who's good and who will be quick, I can just go out and race hard."
Zach will attend team trainings throughout New Zealand.
---
Sponsored Advert



---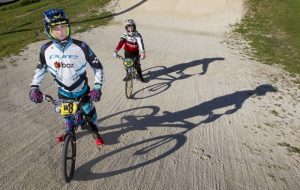 "We work on specific things – gates, corners, track speed. Lots of technical stuff and we learn about food and nutrition, race day foods as well. You learn a whole lot more than you would just pedalling. It will be good to have different people to train with and push myself."
Will also experienced drama during his trials.
"Mine were kind of the same as Zach's, but we don't have three finals. We had four motos, you can drop your worst one, and one final," he said.
He cruised through the moto races, finishing first in all four, but the final was a real rollercoaster.
"I went a bit early and hit the gate, then I got sandwiched between two riders. Then I passed lots of people and got to the last corner in third. Then I crashed. I finished fourth overall.
"I was a bit sad about the last race, but also excited that I made the team. The top four boys and top four girls make the Mighty 11 team."
Will said he trained almost every day – whenever he had a chance to head down to the BMX track.
"It's a fun sport to do and I like bikes. I started doing it for fun and then started racing. It's fun and there are lots of competitors, I am a competitive person."
The transtasman races at Labour Weekend are part of a team event. Each of the Mighty 11 members' results go towards the team's overall score.
"It's a bit different, I'm looking forward to it."
– ROTORUA DAILY POST
---
Sponsored Advert



---