2016 has been huge year for myself, I've managed to ride my bike in places I've never been and have some pretty incredible experiences along the way.
My year kicked off racing in Nerang, on the Gold Coast just like every other year. This was my first weekend racing in Elite Men and it was a tough one, after missing out on the main event the first two days it was great to cap off the weekend with my first AA Pro main event on the Sunday. After returning home, Elite National champs/Oceania champs were next up on the calendar at Puni. Crashes that weekend shredded a bit much skin then I would have wanted and ended the race days a little early, but after patching up I was ready to fly off to Shepparton, Victoria thanks to the Pathway To Podium program and Cycling NZ, for some more National series racing across the ditch. A ridiculously hot weekend of racing ended with some more semi- nal nishes and still chasing an Elite men main event. After that trip it was time to put my head down and go to work with Coach Matt Cameron for the off season, as well as a few local races along the way.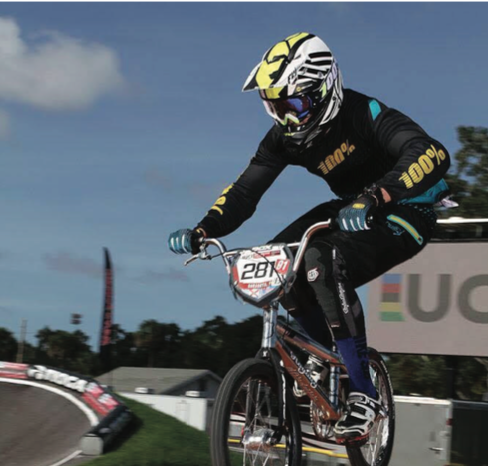 I also started my Tertiary study at the University of Waikato thanks to the Sir Edmund Hillary Scholarship program run through the university. In June I luckily got the opportunity to travel to the United States for the first time with Lance and Logan Hirst and catch a few USABMX National rounds in Chula Vista, CA and Salt Lake City, UT. In Chula Vista, I managed to pick up a pair of 4th places in A Pro against some fast dudes, but this was just short of my goal of putting it on the podium. We then made the drive up to Salt Lake for the next weekend of racing, I raced two days of Elite Men here in a super stacked eld full of Olympians and World Champions and was pumped to be mixing it with all of them, I finished the weekend with another 4th in A pro.
After this awesome trip we headed back home, I got back into my studies and put my head down for the short off season. After a couple months of solid training and a few local races around the country I was ready to head back to the U.S for the final two UCI SX World Cups of the year, the trip was made possible by Cycling New Zealand and the Pathway To Podium program who provided me the awesome opportunity to race my first World Cups and travel with Ryan Hollows and Trent Jones who just came off an Olympic campaign. At the first weekend in Rock Hill, SC; the track was awesome and I was feeling good on it, unfortunately coming unstuck twice in qualifying due to little mistakes kept me out of the nals day. The following weekend in Sarasota, FL; the track was once again awesome to ride, it was a little smaller than Rock Hill but was a whole lot more technical to get around it fast. I had a tough weekend there and was unable to make it through to the nals day, but throughout the whole trip I was able to learn so much and take so many valuable experiences away from it.
As I returned from this trip I also began a great partnership between myself and new sponsors; Royalty BMX and Ride 100%/Crownkiwi Enterprises.
I'm so excited to be working with some great brands and also representing the new 'Teamnine4nine' run by Matt Cameron featuring myself and 4 more super-fast riders within New Zealand.
Not long after returning home from the states I was straight back into racing with the North Island Champs in Cambridge, this was a race I was really excited for as I love the new Cambridge track and had been feeling really good coming into it. The first day of racing started off really well with a few holeshots and good laps in Elite Men, but unfortunately clipped another rider through the unforgiving pro set and came down hard, receiving a pretty decent concussion. So a few weeks off the bike and on the recovery grind it had to be. Now I'm back on the bike and have a few local races to finish off the year while I'm putting in work to make 2017 an even better one than this has been.
Thank you to everyone who has supported me throughout this whole year, it has been such an awesome ride and I can't wait to keep it going!
Make sure to follow me on social media to see what races I'm at and what I'm up to – IG: @colemconie, FB: Cole McOnie #281