New Zealand BMX Olympian Sarah Walker will be made a life member of the Cromwell BMX Club, president Gary Smith says.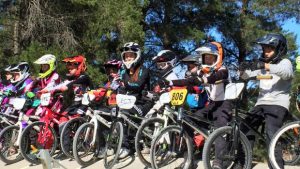 The 28-year-old officially opened the Cromwell Bike Park and BMX track on Saturday. She spent three days visiting schools, holding trainings sessions with riders, racing on the track – and even squeezing in a hot lap and go karting at Highlands Motorsport Park.
Smith credited Walker with putting BMX on the map after she became the New Zealand's first BMX Olympian, winning silver in 2012.
"She was so good with the kids. She is so passionate. She is a fantastic ambassador. She was like a big sister to everyone she fitted in so well with the community and the kids just fed off her. She usually only does one day but we had her for three so were really spoiled."
The Cambridge-based rider had land at Hawea which she planned to build on and she had said the Cromwell track would become her "home track", he said.
"We are going to make her a life member."
The opening had been a proud and emotion day for the committee who over the past five years had made it happen.
"It has been an eight year journey for me after coming up with the concept, then the committee was formed five years ago with people who shared that passion, vision and dream. Collectively, with the expertise and passion we pulled it off for the kids. That's what it's all about. A lot of people thought it could not happen and didn't have that vision."
Kids from around the Queenstown Lakes and Central Otago regions were using the bike park, as well as holidaymakers, he said.
"I always knew it would be popular. I have had a lot of parents say, 'our kids are off the play station out on their bikes."
About 40 riders had joined the new club, and they were keen to strengthen the sport in the region holding combined meetings with Alexandra.
"It is going to strengthen the two clubs and grow the sport and make riders a lot more competitive when they travel away."
Smith's next vision was to hold a South Island race meeting, he said.
"The track is good enough and it is in a beautiful location."
– Stuff