Karepa Heke Kaiawha may only be 12 but the Tauranga BMX rider is well established as New Zealand's top rider in his age group.
But being the best in your own country is one thing – proving yourself against the world's best is another challenge all together.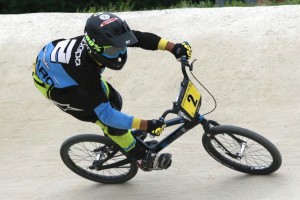 In June Karepa had his chance to take on two Australian world champions during the Mighty 11s test series held in Penrith.
While he was primarily focused on helping the New Zealand team he captained beat Australia, which they were unable to do, he knew deep down that if he could beat the champion young Aussies he would make a real statement ahead of next year's world champs in the USA.
And Karepa smashed it.
He beat both the Australian world number ones during the meeting.
"It felt good to captain New Zealand and was an honour," the Tauranga Intermediate student said.
"Our opponents were really fast and hard to pass but the good thing is I beat both of them [world champions] even though the team didn't win.
"It now feels like I can one day become world 1. Yes, I have thought about it and it makes me proud."
Former Tauranga BMX riders in 2012 London Olympian Kurt Pickard, Shania Rawson and Kieran Ngatai have captained the Mighty 11s in the past.
Karepa is well aware of the proud legacy he has joined.
"Kurt coaches me which is awesome. He is focused and serious and he inspires me."
Pickard is pleased to be a role model and to try and inspire Karepa to follow in his footsteps and make the Olympics.
"It gives me satisfaction to help the next generation like that," Pickard said.
"Karepa's definitely got a lot of talent and someone with big dreams so I love helping make that happen.
"I have seen Karepa do jumps that are well beyond his years. He is a bit of a freak and I guess my involvement is trying to harness the power he's got and make him the best he can be."
Karepa continued his unbeaten run in New Zealand this year at the 2016 North Island BMX Titles in Cambridge over Labour Weekend.
He was undefeated in the 12-year boys and 11-12 cruiser classes, winning all 17 races to retain his North Island BMX Championship title.
"It was cool to take out both the cruiser and 20-inch titles. It was hard but the best thing was the excitement of it all," Karepa said.
Karepa will soon be crowned New Zealand title holder again as he cannot be caught in front with two more meetings to go.
"Unbeatable," he said laughing, as he rode off to talk to coach Pickard at the excellent training facilities of the Tauranga BMX Club in Cambridge Rd.
The next big challenge for Karepa is the national championships next Easter before his first international experience when he travels to Rock Hill, South Carolina for the world championships in July.
– Bay of Plenty Times