My Worlds trip started with ten days in Florida. Having some really good track time at both Oldsmar and Sarasota track was the focus for preparation leading into the World Championships.
Arriving in Medellin, Colombia was eye opening. Driving out of the airport it seemed to be a lot like New Zealand until we hit the city. What an unreal place, the city is huge with views that are pretty surreal. There is a lot of poverty, some mad as taxi drivers and a handful of people who speak English. The lifestyle is very different to New Zealand and made me appreciate what we have at home, the place seemed to be really hectic.
To prepare for racing, I stayed off my feet, stuck to my training programmes, followed the process and tried to keep in a good frame of mind. Staying happy, jamming my music, going shopping, getting some fresh air and keeping my eyes on the prize. The track at first was a big shock to me, it was a little frightening but I just had to deal with it. The track was very technical but during training I focused on one straight at a time, trying hard to dial it in.
Race day – waking up in the morning I didn't want to think about it but realizing it was the world championships. So basically for me I focused on it being a normal training day, trying to stay calm, excited but relaxed. Being positive and approaching the day one step at a time.
Once I made it out of motos' I tried not to let my adrenalin get the better of me and stayed calm, following the process. Laps were going fast, so times in between were important, trying to get the lactic acid out of my legs, staying fresh for the next race, listening to my music, feeling good and keeping in my zone. When I clipped out in the semi final all I could think about was making ground and riding a smooth lap, trying to hit each jump. All of a sudden I had an adrenalin rush and a sense of urgency to make the final. From eighth to third across the finish line left me with 7th pick for the final.
Crossing the finish line was an unbelievable feeling; I have to say I started smiling, as I got closer to the finish line. I raised my arm and felt relieved that I had worked to my expectations and did my family and supporters proud.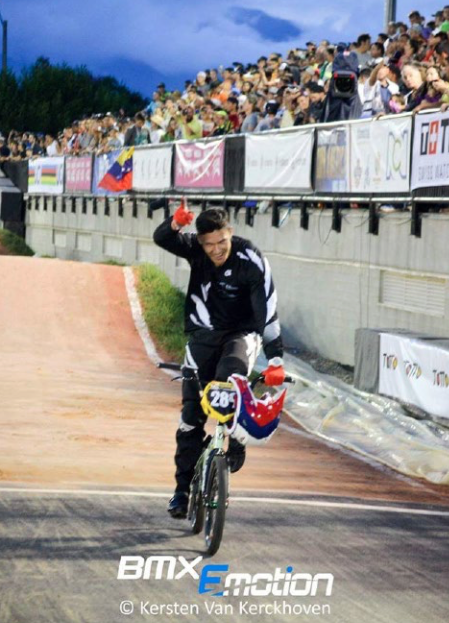 It is a huge honor to represent New Zealand being the Junior Elite Champion. I would like to give huge thanks to all my sponsors, to my mum and dad for making this happen and to all other family, friends and supporters who have supported me in my journey in the 2016 BMX World Championships. Together we have had a great success.
Thank you – Maynard Peel